Dussur is owned by the Saudi Arabian Public Investment Fund, Saudi Aramco, and Saudi Basic Industries Corporation. The company aims to contribute to the local economy by investing its rich resources with world-class partners.
Objective
To achieve its ambitious goals, Dussur collaborated with Digital Gravity. The corporate giant wanted us to boost its visibility with a state-of-the-art website and maintain it on a regular basis.
Dussur wanted its website to portray its reign in the industry and distinguish its presence from similar companies in UAE. So the stakeholders were keen to have a UX/UI that will amaze the visitors.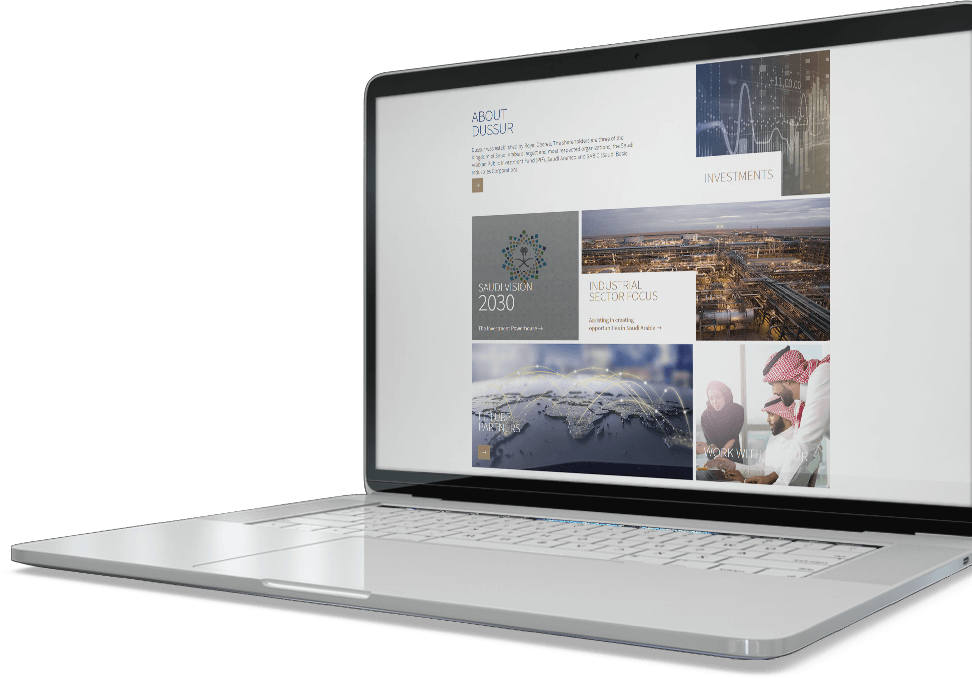 Turning
Businesses

Into

International Brands
The Challenge
Though the functionalities at the back-end were simple ones, coming up with an intuitive design and an appealing User Experience was a challenge. The stakeholders were keen to have a design that would say everything about the company's vision and goals at the first glance.
Stakeholders were willing to spend time on the design and wanted us to perform several iterations in real-time before they could pick one. We had to make sure that despite all the information present on the web, users could navigate through easily.
Our Solution
Our team outlined the project and agreed on deadlines and deliverables with all stakeholders. Later, we experimented with various elements based on the same logic and style, adopting a different hierarchy. We performed several iterations in the design to accommodate different sections on the Home page.


Our design experts created a balance between images, headlines, and icons so they complement each other and ensured that the website is easy to navigate. Further, we helped the company to scale its business at a larger level by sharing proven ideas for boosting its digital presence
We Delivered The Best Digital Products For All Their Needs
By Using Advanced Front-End & Back-End Technologies
Core Technologies
CMS
Database
Project
Management
UI/UX
Services
Tests
Deployment
With a well-maintained and professional website, Dussur has been able to forge new partnerships and expand its business worldwide.