Home » Digital Marketing »
Do Franchises Needs Multiple Websites To Rank On Google?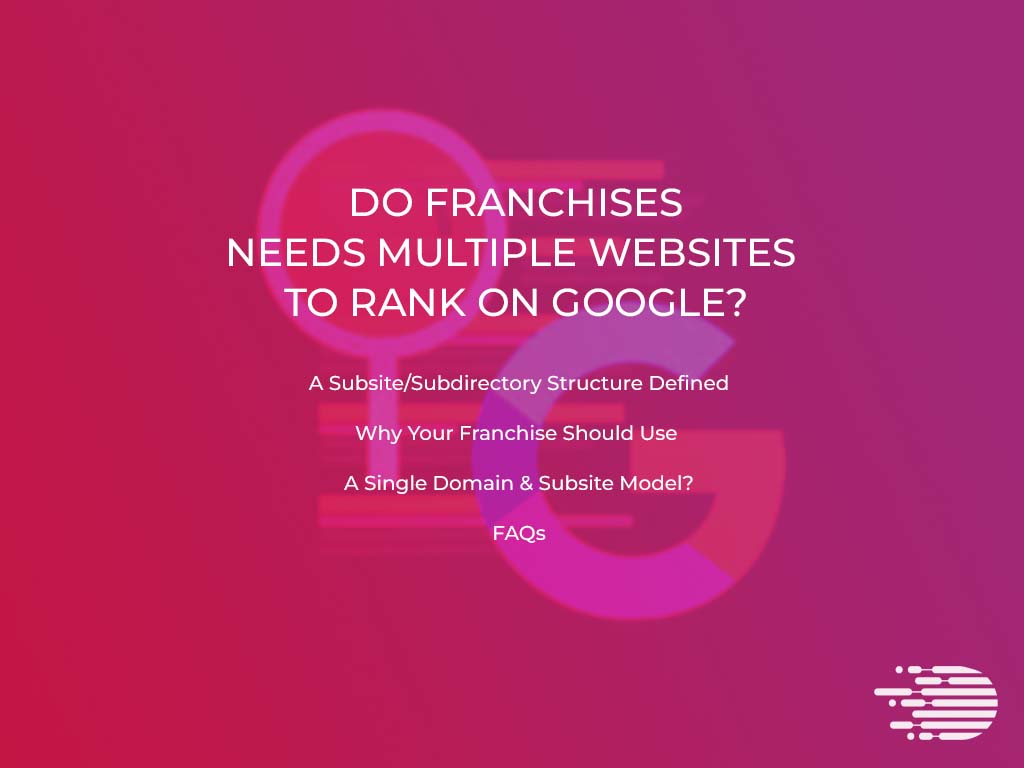 Yes, franchises need many websites for different locations to rank on Google. We are not talking about multiple sites with separate domains. No, you will have multiple websites with one domain name for your franchises/locations.
Have you ever heard about sub-websites or sub-directories?
source: bluecorona.com
A Subsite/Subdirectory Structure Defined
Okay, so we have two choices. You create a subdomain/website for each location your business serves under your main domain. 
Google and other search engines don't recognize these sites as belonging to a single business and domain.
They see them as separate entities and rank them accordingly. However, search engines view a site with a "subdirectory" or "subfolder" structure or a "subsite" as the same domain technically.
Black Tie Moving is a luxury relocation service provider. It provides services in all states of the USA, making it hard to rank for all searches related to different locations.
So they create a sub-directory structure for multiple locations they serve. Their core domain is https://www.blacktiemoving.com. 
When you visit this domain, you will see a tab called "locations," which shows a drop-down menu when you hover your mouse over it.
https://www.blacktiemoving.com/atlanta is the URL for the subsite for Atlanta. This subsite has a different set of content design from the other subsites to rank in a specific location for targetted keywords.
Why Your Franchise Should Use A Single Domain & Subsite Model?
Single domain & subsite strategy works because all the subsites are viewed as a single domain. Don't get it? It saves you from investing more money, time, and effort into each area's site.
Your Branded Keywords Will Not Stop Each Other from Ranking for a Specific Location
When you create different websites with different domain names for all locations, your brand keywords compete with each other in the search engine results, negatively impacting your rankings.
But when you follow one domain & subsite strategy, searchers will always see one URL in the search engine result pages.
Rotorooter is a plumbing agency with multiple subsites for locations around the USA under one domain https://www.rotorooter.com.
Whether a user searches with "Rotorooter Michigan," "Rotorooter Dallas," or "Rotorooter Georgia," the search results will contain the same domain Rotorooter.com with different metadata for each location.
Your Content And Site Template Will Not Match with Multiple Other Sites
Search engines don't like it when various websites have the same template, content, and site structure. Having a single business site with outgrowing subsites remove this problem since search engines crawl all subsites as a single website.
You Avoid Complexity While Building Websites for New Areas
The businesses that follow the multi-site strategy need to do a lot of extra work when they open a new franchise in a new location.
They need to buy a new domain to launch a website from scratch. They have to bear the financial costs for each area, like domain and hosting service costs.
Finally, they need to invest in getting guaranteed SEO services to get their new site decent domain authority. 
Shared Domain Authority and Backlink Profile
A single domain hosts all the locations in the one domain & subsite model. It means Google gives them a combined domain authority, and they share all the backlinks.
Yes, subsites dilute the 'link juice" you get from your backlink profile, but you still don't need to do off-site SEO for each site separately. And your subsites get higher rankings because of the corporate domain.
Tracking Your Performance Becomes Easier
When you have multiple websites for one business, tracking their analytics becomes mind-boggling and time-consuming. You have only one data set when you track a location-specific website in analytics tools.
Plus, you need to set up analytic tools for each site which takes effort and time. But with subsites under a single domain, you have data for multiple locations all at one central place, which you can filter by area or subsite.
You Improve Your Chances of Ranking with Less Work
So, we have discussed many advantages of the corporate and subdirectory strategy for your brand. Many of these benefits help increase your organic visibility potential and lower the money and time spent doing so.
The most frequently asked questions on Do Franchises Need Multiple Websites To Rank On Google?
When a multi-site model is suitable?
We recommend using one domain and subsite model for all franchises. But sometimes, it might be the wrong move, and the multisite strategy will be the right one. Here are the conditions.
Each franchise or/and area have a different brand

Each franchise or/and provides unique services, e.g., one franchise only offers

affordable digital marketing services

, and the other only offers branding services.
What is the more SEO-friendly and cost-effective model, the single domain & subdirectory or the multi-site model?
Certainly having a single business website with sub-directories for your franchises/areas is a more pocket and SEO-friendly model.
How does having many websites and domains impact your business in the long run?
If you create multiple sites with different domains for each franchise/location, search engines will rank all those sites separately in the organic search results. It will directly impact your bottom line because the businesses on page one of SERPs get more calls than those on page 2 or 3.
Bottom Line
If you have made the mistake of creating different websites for each of your locations or franchises, you can fix this mistake from now onwards. You can still start following the single domain & subsite model and build subsites for your new franchises. 
Based in Newyork, Digital Gravity Agency is a prominent digital marketing company in the USA. We can turn your goals for your new franchise/location website into a reality.
We will build your franchise's website and optimize it for search engines like Google, Bing, and Youtube. These are not just big claims. Our clients include leading franchises in the country, and our team is passionate about helping your company next.