Home » Digital Marketing »
Top 9 Testing Tools for Landing Pages That Boost Your Conversion Rates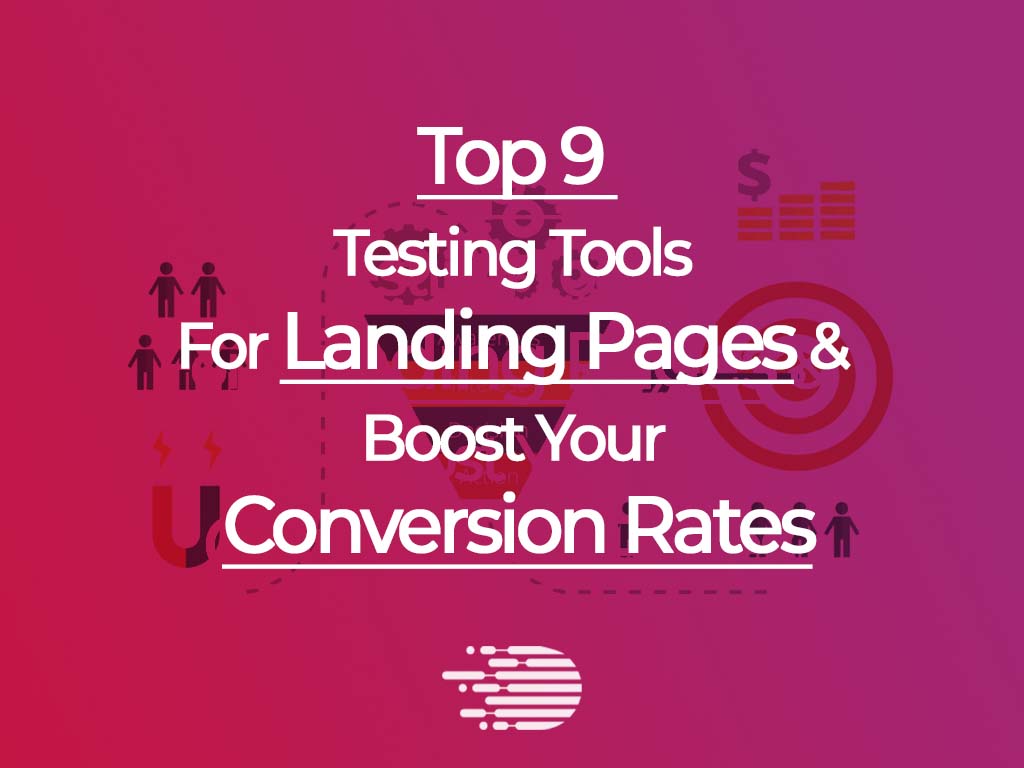 A landing page is like a goldmine for any online business. An SEO agency might design it with various objectives in mind such as lead generation, building a list for email marketing, or driving sales through it.
But here's the kicker: According to WordStream, the average conversion rate for landing pages is 2.35%. This means you are going to lose -97% of the traffic landing on it.
Whatever the objective of the campaign is, if the landing page is not optimized, it's going to be a pointless venture.
Say you are running a paid campaign in which a single click is costing you $5, a 10% increase in conversions would give a massive boost to the ROI. That's how much difference an optimized landing page can make.
But optimizing a landing page isn't a walk in the park. There are various aspects of it. In this article, we are going to introduce you to some really handy landing page optimization tools that will make your job super easy!
Top 9 Testing Tools for Landing Pages
The following nine tools are carefully picked based on their pros and cons, pricing, and overall marketing reputation:
1. Unbounce
Unbounce comes with a plethora of easy-to-use features for the users, giving you the freedom to customize and optimize your landing page for the best results.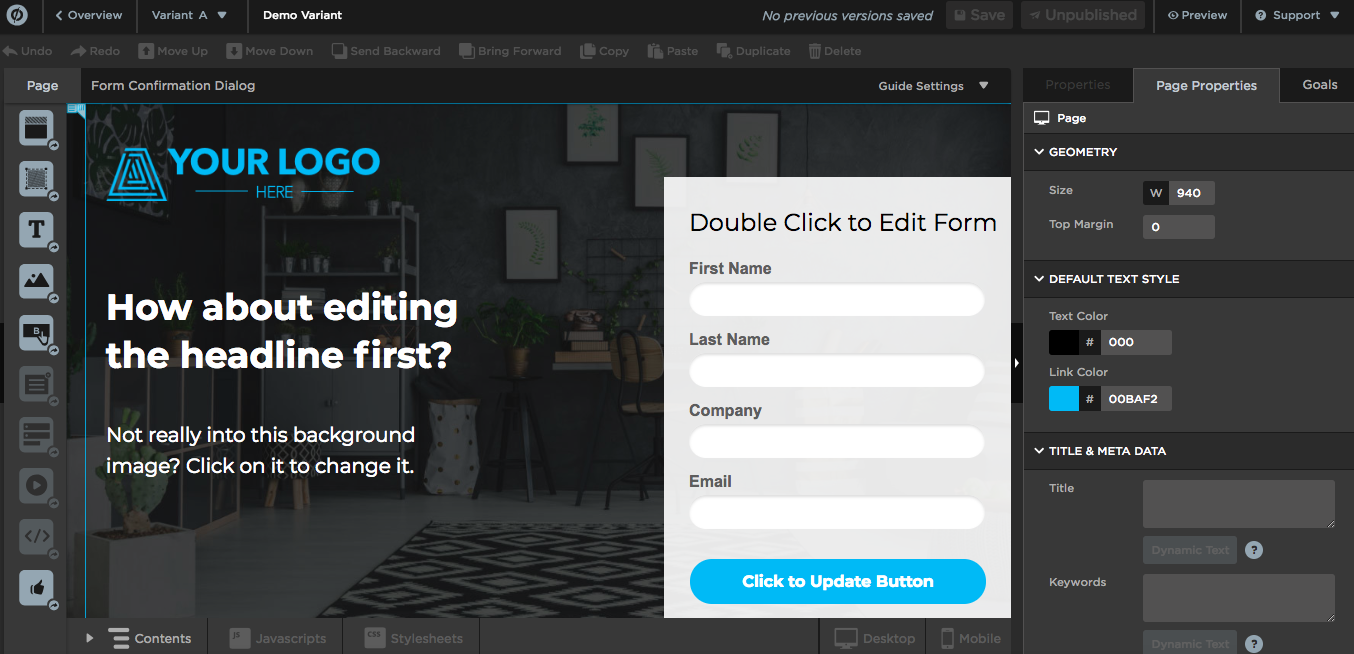 image-source: instapage.com
Key Features:
Built-in templates for all industries.
Drag and drop builder.
Popups and opt-in forms with triggers.
Analytics.
Advanced customization (edit HTML or CSS code or add a custom code).
Form builder.
Unlimited sticky bars and pop-ups.
A/B testing.
Create any type of form that looks attractive to your visitors for improving conversions.
Mobile responsive elements.
Price:
Starts at $80/month. Free trial available.
Rated:
2.3 out of 5 on Trustpilot with 155 Reviews.
2. LeadPages
Next on the list is LeadPages, it's the first choice of many landing page creators and internet marketers. Since it's quite straightforward to use, you don't need to be a tech-savvy person or someone with a programming background to use it.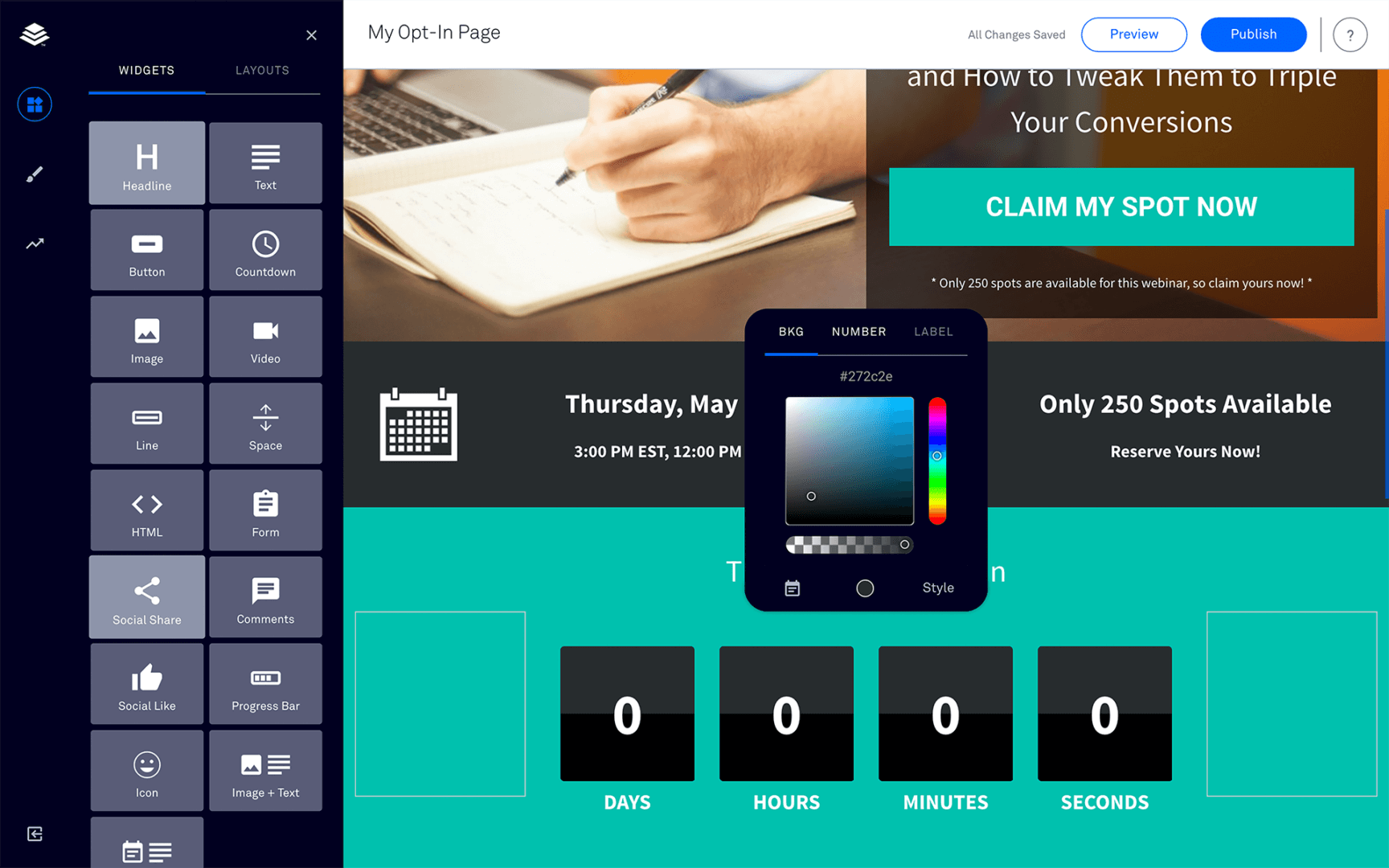 image-source: instapage.com
Key Features:
Built-in templates that you can purchase on the go and start creating your page.
Drag and drop builder.
The freedom to create your template and sell them.
Learn about the conversion rates of various templates and choose the best one for personal use.
Conduct split testing.
Configurable pop-ups in the form of Leadboxes.
A built-in real-time analytics system.
E-commerce, email marketing, and domain integrations.
Price:
Starts at $37/month.
Rated:
4.6 out of 5 on Trustpilot with 318 Reviews.
3. Instapage
Instapage is an intuitive and flexible landing page builder featuring loads of building blocks and the WYSIWYG editor. Compared to Unbounce, it may not be as powerful but surely beats it in terms of usability.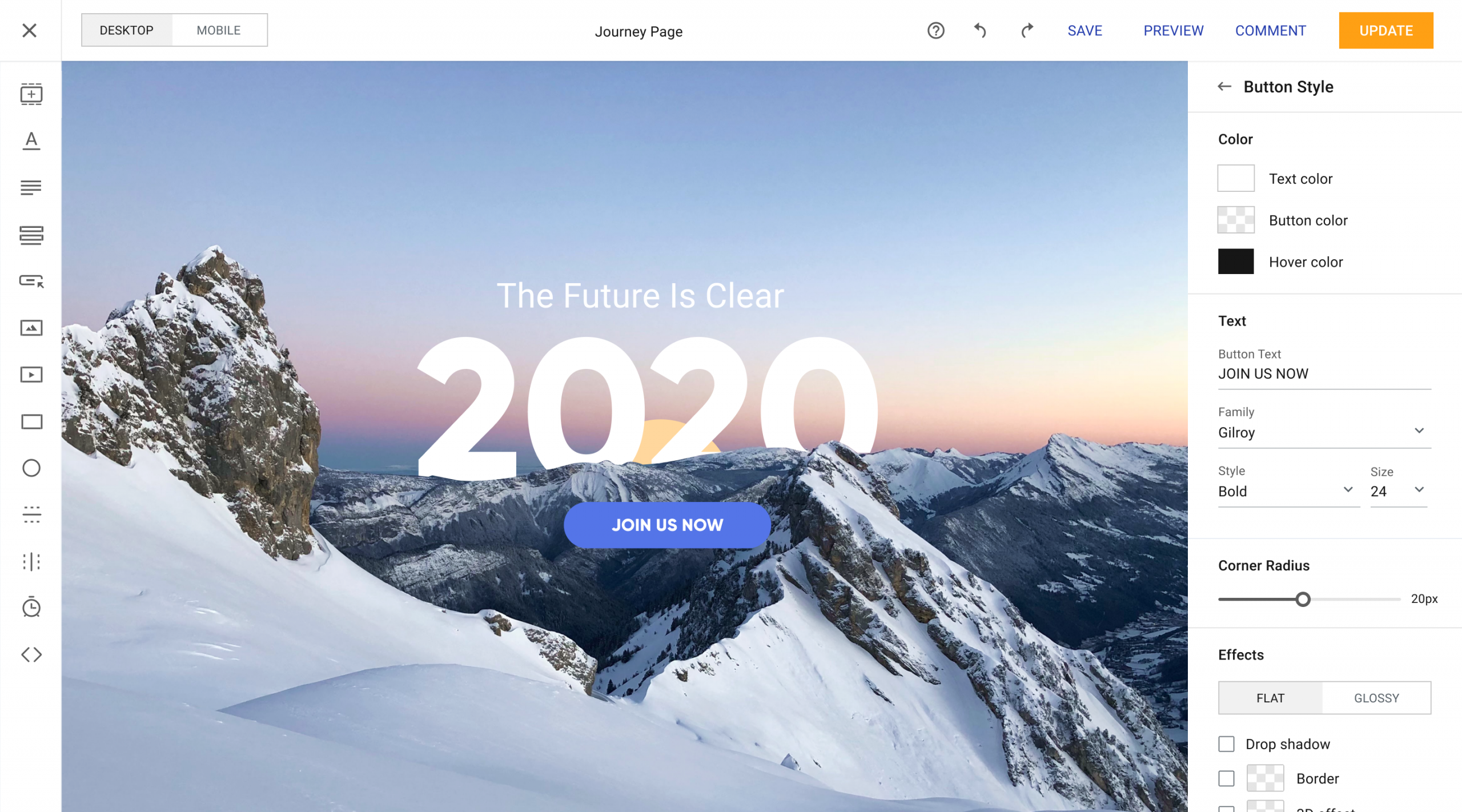 image-source: instapage.com
Key Features:
Collection of over 200 professionally designed landing page templates.
Data quantification.
Web page, mobile device, and side-by-side analysis.
Built-in heatmaps to track user behavior.
Session replays.
Data segmentation.
SEO.
Built-in A/B testing tools.
Can be integrated with marketing automation tools like HubSpot, Marketo, Autopilot, etc.
Price:
Starts at $199/month billed annually. Free trial available.
Rated:
3.4 out of 5 on Trustpilot with 382 Reviews.
Also Read: 10 Immersive Web Design Trends to Boost Conversions in 2023
4. Hotjar
Compared to the expensive landing page optimization tools, Hotjar is quite affordable. It's being used in over 180 countries and SEO companies in the USA, too, rely on it to optimize their clients' campaigns. You can connect it to your website with the help of a tracking code.
image-source: hotjar.com
Key Features:
On-site surveys to engage with the audience.
Use u-turns, rage, and referees to monitor user behavior on your website.
Analyze customers interaction using heatmaps
Export analytics data as a CSV file.
Collect qualitative feedback about your page.
Set survey triggers to learn when users performed a certain action.
Price:
The basic plan is free to use. Starts at $39/month.
Rated:
2.4 out of 5 on Trustpilot with 32 Reviews.
5. Optimizely
Optimizely is a 360° digital experience optimization tool that includes multivariate testing, server-side testing, A/B testing, AI-powered personalization, and experimentation. Currently, more than 20 Fortune 100 companies, including IBM, Microsoft, and Atlassian, are using it.
image-source: segment.com
Key Features:
A codeless visual editor to design landing pages fast.
Run content experiments on multiple platforms including TV apps, IoT apps, and mobile apps.
Segmentation with customer profiles.
Product recommendations.
AI personalization engine.
Cart abandonment messages.
Can be integrated with Google Analytics, Google Universal Analytics, Adobe Analytics, and many more.
Pricing:
Contact their sales department to get a custom quote.
Rated:
3.4 out of 5 on Trustpilot with 3 Reviews.

6. User Testing
User Testing gives you valuable insights into your landing page's outlook and expected performance by showing you recordings of both your visitors and the page itself.
This tool will record users in the real world (through their camera), showing you the facial expressions of the visitors so you can learn from their real-world interactions with your landing pages.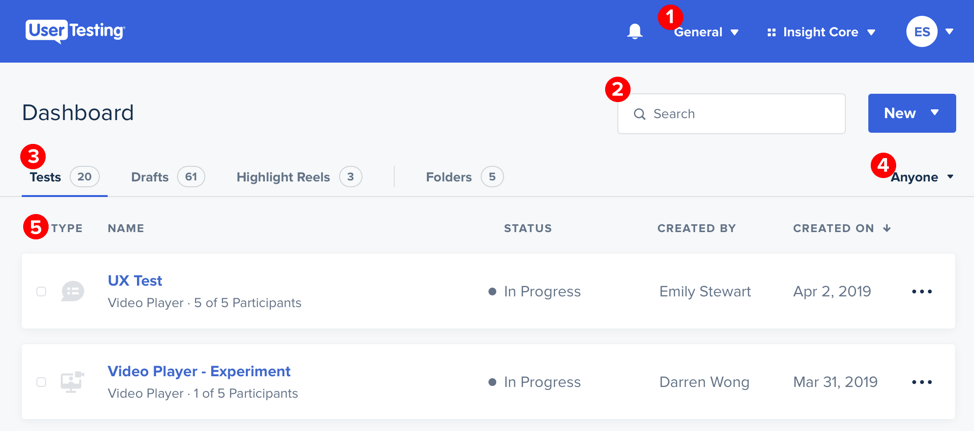 image-source: usertesting.com
Key Features:
Product Insights.
Same-day video interviews.
Real customer feedback.
Discover and share human insight.
Not just a marketing tool but also used by marketers, executives, and product managers.
Price:
For small SEO agencies, it can be a bit expensive. To get a quote, you'll have to privately ask their sales department.
Rated:
4.5 out of 5 on Trustpilot with 1,046 Reviews.
7. CrazyEgg
CrazyEgg is the favorite tool of local SEO solutions in the USA. We at Digital Agency USA are well aware of the pros and cons of this tool. It investigates buyers' journeys, identifies audience segments across web pages, and recognizes issues. In terms of pricing too, it's quite affordable.
image-source: crazyegg.com
Key Features:
Behavioral analytics
Campaign segmentation
Audience targeting
 Heatmap tracking reports
 Set up specific goals to test web pages
Data visualization
Heatmaps
Easy to install
Price:
Only $9 per month!
Rated:
4.2 out of 5 on Trustpilot with 7 Reviews.
8. Landing Page Analyzer
As an SEO company in the USA, we at Digital Gravity Agency have to deal with a variety of landing pages. Each has a different objective. And when it comes to usability, we believe Landing Page Analyzer, a product of Unbounce is one of the best tools you can use. It brings some valuable insights to the table for you to leverage and optimizes your campaigns.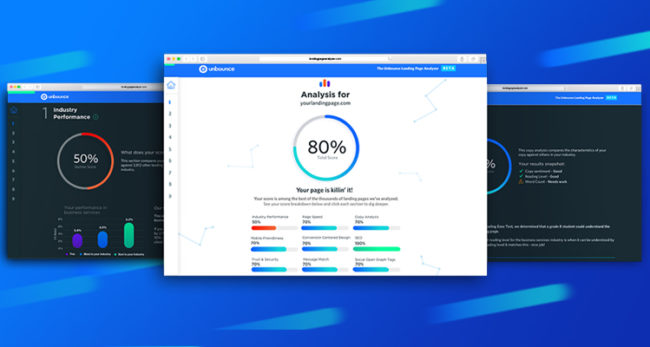 image-source:  unbounce.com
Key Features:
Reviews and evaluates your landing page.
Gives you a detailed feedback section.
Weighs the relevance and call to action.
Asks you 21 questions and gives you a near-to-accurate effectiveness score of your landing page.
Price:
It's an online tool and is absolutely free!
Rated:
4.2 out of 5 on Trustpilot with 7 Reviews.
9. FullStory
FullStory is quite similar to Hotjar in terms of features. It too has some amazing features such as on-site pools and surveys that let you collect accurate data and optimize your campaign accordingly. In terms of pricing, it's slightly better than Hotjar as it gives you ample features for free to get started!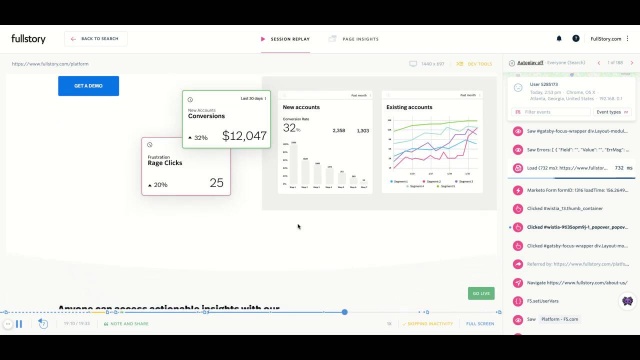 image-source: fullstory.com
Key Features:
Session replays to monitor progress.
Heatmaps to track the user journey.
Click tracking.
Frustration tracking, mouse movement.
Error and bug tracking.
User identification.
A wide range of integration options.
Track bugs and errors.
Price:
Free for three seats, 1000 sessions per month, and data storage for one month.
Rated:
2.6 out of 5 on Trustpilot with 4 Reviews.
How Do You Optimize a Landing Page?
With a feature-rich tool at your disposal, landing page optimization can be fun. You won't have to write a single code yet you'd be able to carve out exactly the look you believe is the best for it.
Here are the fundamentals of landing page optimization:
Step #1: Google Analytics Analysis
Google Analytics Analysis lets you track issues on your website and offline campaigns. Later, you can use these insights to improve the effectiveness of the content and overcome the existing flaws.
Step #2: Heatmaps Analysis
Heatmap Analysis is about collecting insights about user interaction and behavior as they engage with your product.
Step #3: Stage of Awareness Analysis
During this stage, you learn how the users are interacting with the landing page during the whole journey.
Step #4: Customer Surveys & Interviews
Customer surveys and interviews help you better understand the desires and needs of your target audience and optimize your landing page to meet them.
Step #5: Content & Design Analysis
Content and design play an important role in driving conversions. From time to time, you'll have to analyze and make changes to both — if you are not meeting your targets.
Who Should I Hire for Landing Page Optimization?
Landing page optimization can be tricky and time taking. It takes a few days and consistent traffic before you can analyze data and decide if you have got everything right on the page or not.
The best approach is to hire an SEO company in the USA to not just optimize the campaign but also design landing pages for you. At Digital Gravity Agency we do both!
As an SEO agency, we have designed, optimized, and managed hundreds of campaigns for a wide range of industries. What works and what backfires is at our fingertips.
So, if you are looking to rock and roll with your campaigns and amp up your ROI with our landing page optimization services, contact us today. Just fill out the form and we'll contact you within the next few hours.