Home » UI/UX Design » Logo Design »
The Future Of Logo Design: Trends To Look Out For In 2023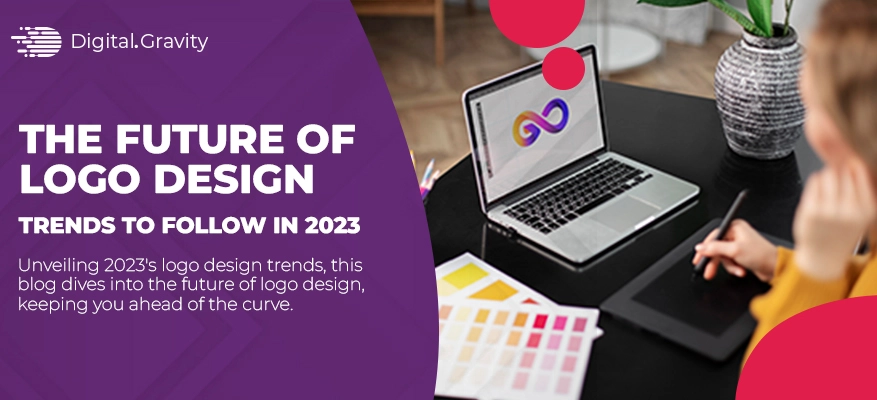 In this modern era of digital technology, logos have become essential in building brand identity and helps in creating a memorable first impression by communicating your value proposition to potential customers.
With rapid developments in technology and changes in consumer behavior, brands are continuously exploring innovative logo designs to redefine their business services. In this article, we will be reviewing logo design trends in 2023 that are expected to be the future of logo design and will help to captivate the attention of your target audience.
Logo Design Trends To Look Out For In 2023
Use Animation For Engaging Logos
With emerging technologies, there is constant development in different tools, and that has led to many innovative features that you can use for logo designing. These tools and features have made logo designing easier and more exciting. You can use these animation tools and techniques to add movement and energy to your logos. You can also go for 3D logos that are already very common today. Adding animation to logo design will enhance its visual interest and engagement from your target audience.
Layering
Layering adds depth and dimension to your logo, making it more appealing and memorable. It involves combining different elements such as shapes, typography, colors, and patterns to create a compelling and meaningful logo. 
Layering creates logos that are simple and complex at the same time and are effective in building a brand identity. By adding layers to your logo designs, you can create a logo that has multiple meanings and communicates your brand value and personality to your potential customers. 
Additionally, layering allows logo variation while maintaining consistency across all digital media platforms. Today, digital platforms are very effective in creating brand awareness among consumers. Therefore, by layering one design element on another, you can enhance your visual identity and can position your brand in the customer's mind.
The Art Of Color Blending
A balance between the color contrast plays a crucial role in logo design. Using the right color contrast gives your brand an identity that is purely unique and memorable. You can also include 3D gradients to make it look lively. 
A logo designer can suggest a strategy for logo designing as per the brand's personality, target audience, and industry. They have vast experience in using clashing or muted colors that can help to make your logo stand out and be memorable. Although clashing colors is a risk and does not necessarily work for every industry, a logo designer can give you splendid results.
You can hire a logo designer because they have diverse experience in creating logos with admirable shades and schemes. A logo designer can also help you sketch a design that is relatable and accurately represents your business's products and services.
Make Your Logo Fun & Playful With Doodles
Doodles can create a unique brand image by adding a personal touch to its logo. They are mostly drawn by hand which gives the brand a distinct brand personality. You can incorporate humor in your logo through creative drawings. Moreover, doodles add playfulness to a logo, which builds an emotional bond with customers and makes the brand more iconic.
Doodles are fun, playful, and full of personalities that convey a brand image in an approachable way. Including doodles can make your brand memorable, relatable, and engaging for the target audience. Google is an excellent example that uses doodles and frequently updates its logo for special events, holidays, and anniversaries. These doodles contribute to making an enjoyable user experience by adding fun and surprise to the Google search experience.
Incorporate Geometrical Shapes & Distorted Geometry
Geometrical shapes and forms bring a symbolic identity to the brand. You can use shapes with line art and stripes to give your logo a modern and luxurious look.  A logo helps to achieve a competitive edge in the long run if it is appealing to the customer's eye. 
Distorted geometry is a top trend these days, where designers break the traditional style of logo design. They intentionally distort geometric shapes and silhouettes to create new geometric patterns that are unconventional but visually appealing. Logo designers mostly go for missing pieces, jagged and razor edges to grab the focus of potential customers. This trend gives meaning to your brand in the following way:
Straight lines reflect stability and balance whereas diagonal lines or shapes reflect movement and dynamism

Geometrical shapes are a way of communicating that evokes emotions in potential customers. For instance, triangles/ sharp angles suggest strength, and circles/ curves show friendliness and softness.

Overlapping and intersecting shapes increase visuals aesthetics

Geometric inclinations indicate a  brand's personality and values. For example, if you are using straight lines and simple shapes, it will reflect simplicity while abstract shapes illustrate creativity and innovation.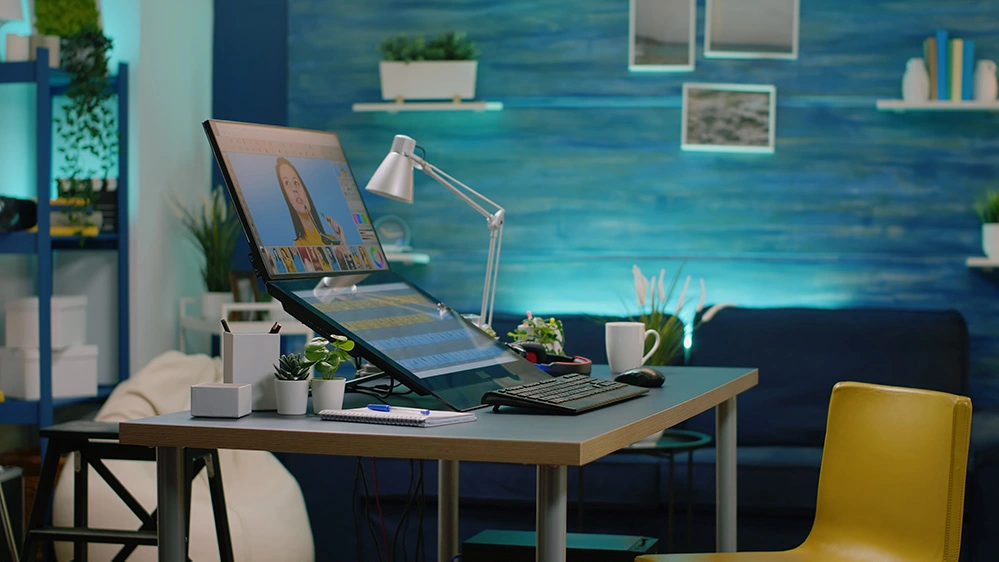 Expressive & Interpretive Letter Marks
Similar to the trend of distorted geometry, there is this trend of loose interpretive letter marks where designers take a more abstract or creative approach to typography. In this style, letters are often broken and rearranged to create differentiation in an artistic way. This is a thoughtful process and adds a deeper level of interaction to designs as these logos cannot be understood immediately. They require viewers' attention to uncovering the real meaning behind the logo and brand name.
Merged Science-fiction & Logo Designing
Science fiction has always been a trend but with continuous innovations, logo designers have adapted science fiction in logo designing. However, it totally depends on the industry you are planning to serve. These science-fiction themes can be very inspiring for customers in choosing your brand as their point of purchase. 
They are mostly used in the high-tech industry to convey a sense of innovation and a forward-thinking approach. Science fiction will not only appeal to people who are interested in fantasy, gaming, and technology but it will win the interest of any potential customer. Science fiction is a powerful tactic that can create distinctive, innovative, and exciting brand logos for your business.  
Digital & Modern Visual Art
With emerging patterns, logo designs and styles are constantly evolving. This change has caused a progressive shift towards digital glitches from traditional art Deco. These ongoing developments have led to modern logo design ideas that particularly include digital artifacts, pixelation, color shifts, and other visual distortions.
By using this technique, logo designers create a unique and catchy logo that differentiates your business from other service providers. This modern visual art reflects inspiring aesthetics about your brand and will create a visual identity to stand in the competitive marketplace.
Keep It Simple, But Connected
Minimalistic logos are the greatest trend in 2023. Customers mostly feel connected to logos that are simple and have a clear and concise message. Logo designers ensure that the logo conveys the desired message in a meaningful way and reflects the brand's core in which it is serving. In this way, a brand can make its logos vintage and minimal. 
The whole purpose of minimalistic logos is to build an emotional connection with potential customers. Your logo design must be expressive but concise.  A well-designed minimalistic logo, along with other factors like the brand's voice, personality, customer experience, and interaction can build an emotional connection between the brand and customers. 
Retro designs and illustrations contribute significantly to modern logo design ideas. These designs are mainly used in the food and restaurant industry, construction, and manufacturing businesses. This trend is very successful in grabbing the attention of potential customers in stores or on any digital platform. Customers remember designs that have retro imagery involved as it makes them more visually appealing. These designs deliver a brand story that enhances brand credibility and creates a positive perception in customers' minds.
Conclusion
These are some logo design ideas for 2023 that can help you to create an engaging logo design. If you are starting up a new business, you need to consider these trends when designing your brand logo.  As logo designs are constantly changing, it is important for businesses to adopt the latest trends and techniques.
The top logo design trend for 2023 is minimalist logo designs and that is what today's customers expect and like. A logo is your brand identity that makes a substantial impact in positioning your brand in the marketplace. However, it is essential to include 3D animation and designs that create a dynamic brand experience and leave a long-lasting impression of your brand. 
You can connect to a digital marketing firm that offers valuable logo design services. They have designers with creative minds, who can make innovative logo designs for all types of industries. Their expertise and experience can help your brand in establishing an elegant brand image that customers will remember. 
FAQs (Frequently Asked Questions)
Q1. What type of design trends are you expecting in 2023?
Listed below are some logo design trends for 2023
Clean shapes

Geometric compositions

3D animations

Minimalist  logos

Retro designs
Q2. What do you see future design trends being?
The future of logo designs includes the following:
Motion graphics

Bold abstract shapes

AI-generated art

3D element

Distorted geometry
Q3. What is the best design for a logo?
Abstract designs

Retro designs

Use white space

Use modern art and visuals

Choose a good combination of gradient colors
Q4. Which type of logo is better?
Combination logos that include unique symbols and typography are good for new businesses. These logos can grab customers' attention, especially abstract logos as such designs are most likely to be remembered by potential customers.