Home » Website Development »
5 Best Web Design Software Tools in 2022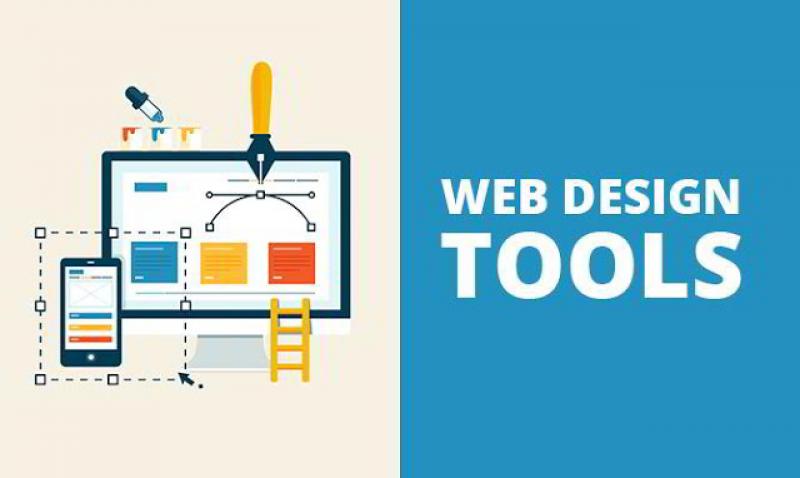 Website development and web design are two different processes. Professionals from these two fields often have a hard time working with each other. We have loads of sophisticated software tools that can cater to the unique web design needs of nearly everyone.
We aren't concerned with whether you are an expert or beginner developer or a marketer, our list of web design builder software has a solution for everyone. There was once a time when people in the USA use to find it much more difficult to create a catchy professional website from scratch.
But, today we have tools that provide an intuitive interface and a drag-and-drop feature. Thanks to them, setting up a website has become a piece of cake. Your business website is your first impression of your targetted customers. And you only get one chance.
Web design and development of your site can make or break your online reputation. A visually appealing, neat, and attractive website is essential. That site will determine how a visitor sees your brand. This first perception will decide whether they will stay or bounce back.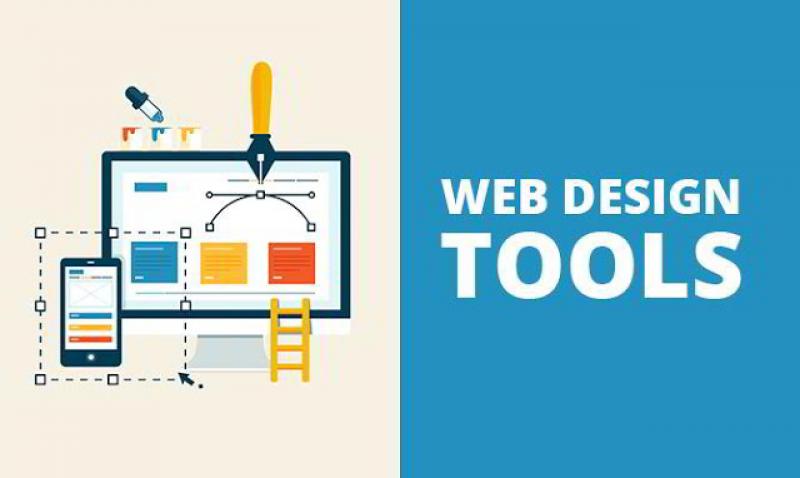 Top Five Web Design Tools in 2022
We will discuss the five best web design software in the USA to help you in choosing the right software tool for yourself. These tools can polish your web design and development skills, inform you more about the industry and help you make your career successful.
Sketch
Technical Information
The sketch is best for high and low-fidelity designs and prototypes. It can run on macOS and the web and offers live preview applications for iOS. It has two pricing packages —  that are nine dollars monthly or ninety-nine dollars yearly with a free 30-day trial.
Features
As a dynamic drag-and-drop web design tool, Sketch enables designers to make incredible website designs and prototypes even if they know nothing about website development.
You can maximize any part or component to the pixel level. It allows you to make all your design elements perfectly in line with each other. With a collaborative component library, you can easily build universal aspects and also update them universally during the design process.
Additionally, its app library offers a great way to layer up more functionality over the software. The sketch team and their community members in the USA and elsewhere have also designed and included many plugins and assistants in their app library.
The assets of this library help website designers follow design best practices, discipline your work, and even convert designs into animated demonstrations to predict user flow. The sketch is among the most popular web design software tools because it's user-friendly, beginner-friendly, and organized.
However, some of its features can't compete with other design software tools in terms of advanced technology. For example, Sketch's prototyping is weaker than Figma's offering.
In conclusion, the sketch is an awesome program to learn about the basics of web design and development. And it helps you to team up with other people in a design workspace.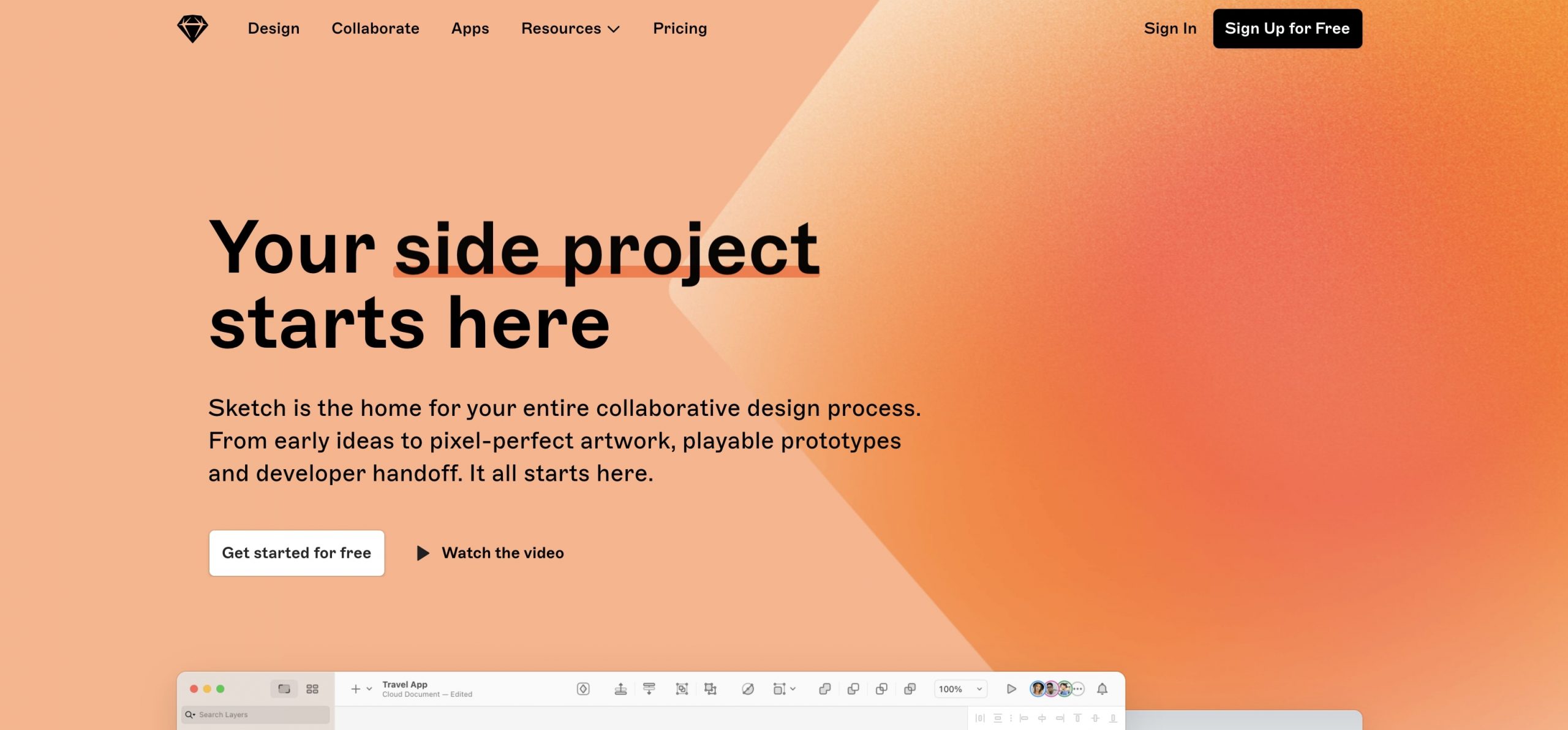 Figma
Technical Information
Figma is ideal for high and low-fidelity designs and prototypes. It can run on macOS and Windows and offers live preview applications for Android and iOS. It is available for free but the premium version charges 45 dollars per month.
Features
Figma is packed with phenomenal features useful for both freshers and pro website designers. It helps web developers in honing their web designing and prototyping skills by freeing them from the worries of coding.
This platform contains many tools to create functional sites and design elements. It has reusable parts website designers can copy on many web pages as well as a design library from which designers can drag and drop assets into their designs.
Web designs have many elements and defining the interactions between them is hard. Figma allows you to make easy-to-understand prototypes during the design process.
You can produce functional overlays, define transitions and create GIFs to show how all the elements interact with each other. Another quality of this software is that it helps in collaboration whether you are designing with a team or you need to get comments from a colleague or teacher.
Many designers can work on the same design and add comments on others' designs and prototypes. Also, you can cancel changes because your full version history stays saved on the platform.
Moreover, Figma creates the code a designer needs for each of their design elements so that they can share their web design with a web design and development professional.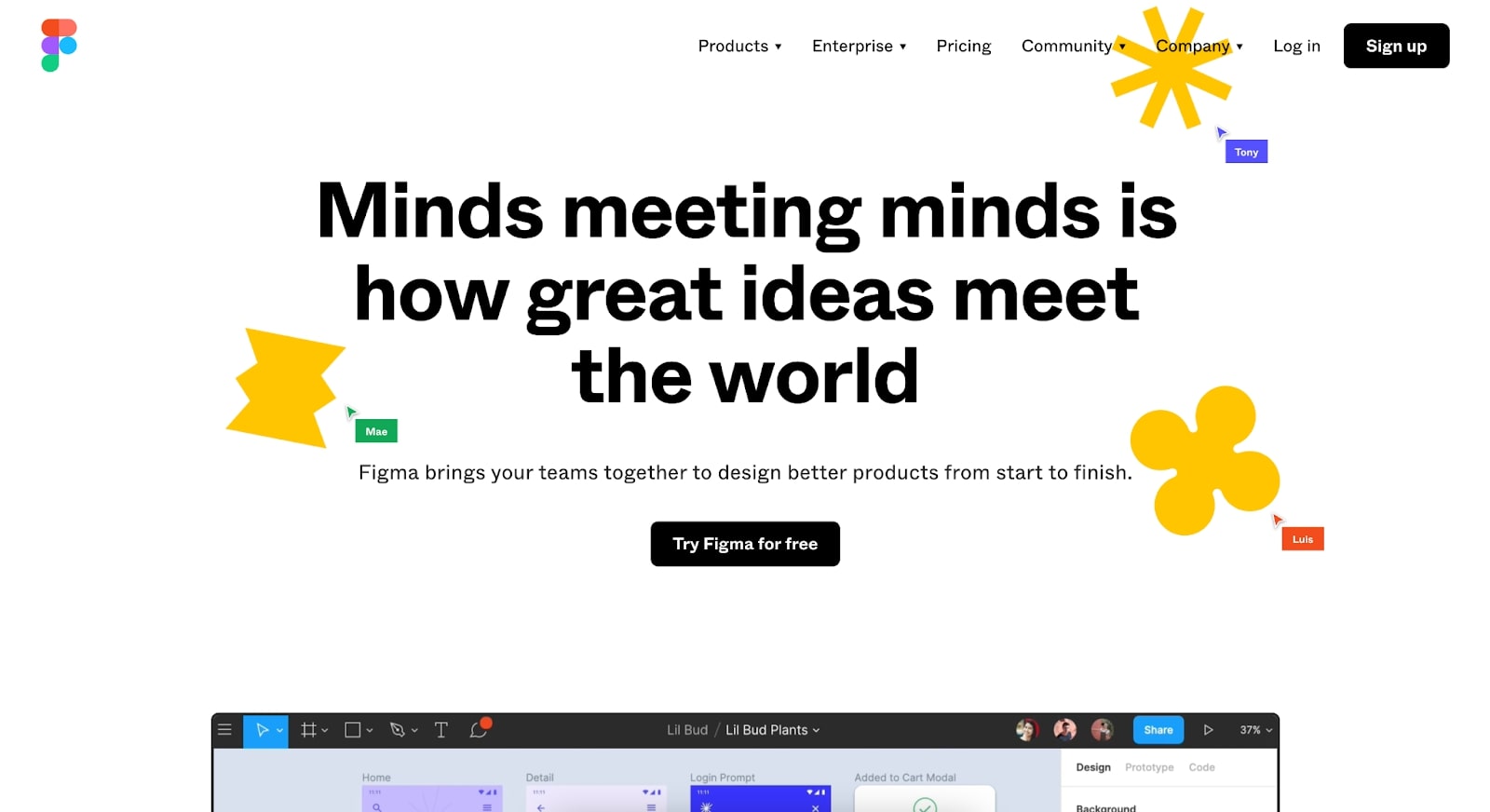 Adobe XD
Technical Information
Adobe XD is ideal for high and low-fidelity designs and prototypes. It can run on macOS and Windows. It offers two price packages. One charges $ 9.99 per month with a free seven-day trial. And the other one charges $ 52.99 per month and offers the full creative suite including Adobe Photoshop and Adobe DreamWeaver.
Features
Adobe XD is a vector-based full-fledged website design software tool. It allows web designers in the USA to both works alone and with a team. You can select colors, components, and fonts in its design assets library. And editing these elements will upgrade every example across your design.
But what makes Adobe XD a popular software tool is its flexibility to work with Illustrator, Photoshop, and Sketch Files. Some website designers prefer Photoshop to create mockups. Those people can import their designs into Adobe XD and the other way around with just a few clicks.
It also makes life easier for those professionals who use Windows. They find it hard to team up with other designers. With XD, they can partner with people who employ a macOS-only sketch tool.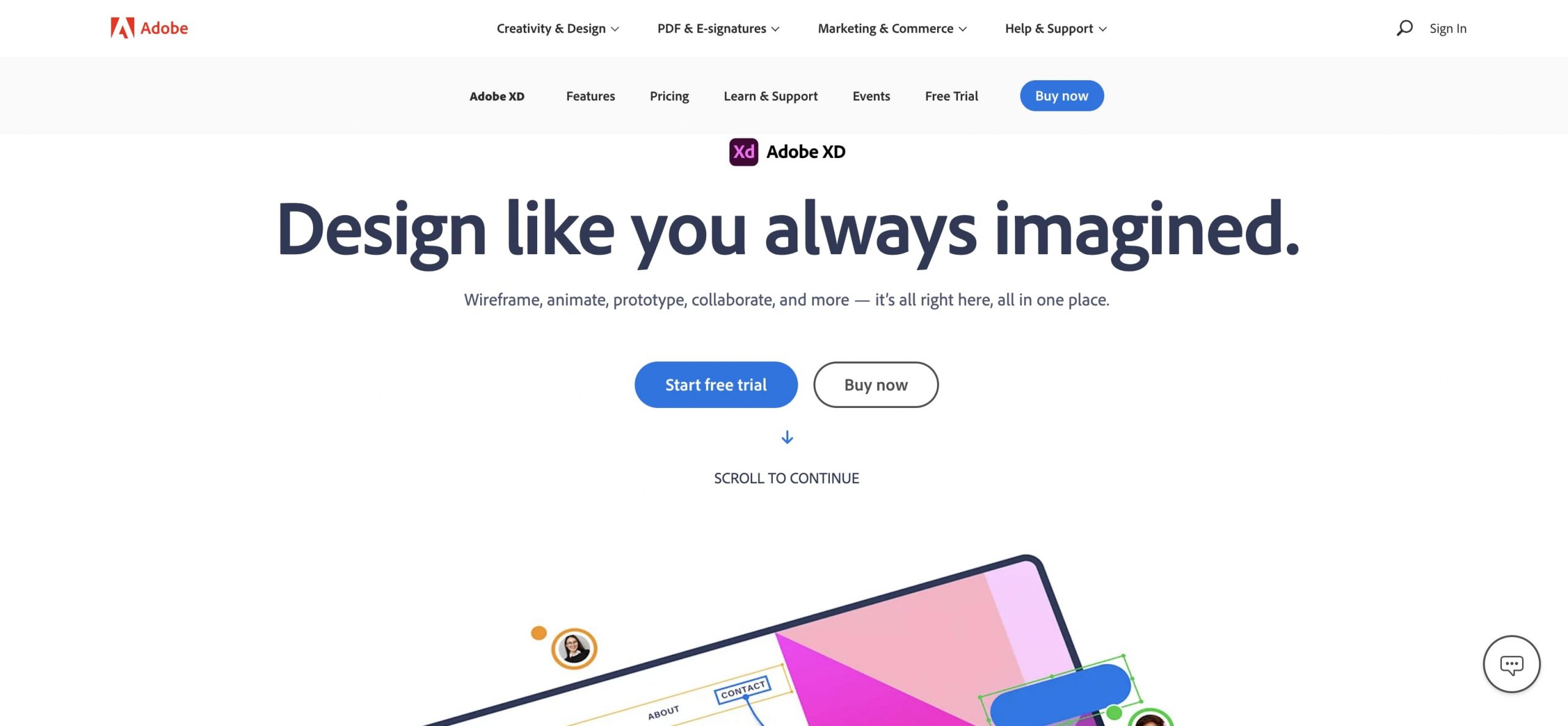 FlowMapp
Technical Information
FlowMapp is ideal for flowcharts and sitemap planning. It's available on the web and has a free version as well as a version that charges $199/year.
Features
Do you need web design software that can help you understand and present the consumer journey to your team?  then FlowMapp is for you.
This software tool isn't a full-fledged web design tool. But it can help you make flowcharts and plan user journey maps. These flowcharts and sitemaps allow website designers to understand the needs of your site's visitors.
Teams of designers can easily collaborate on projects on FlowMap in real-time. Plus, its library contains icons, pointer tools, text editors, and more. These help you to build attention-grabbing flowcharts worthy of being presented at a big meeting.
Designers can put user research into the persona planning tool. And then, they can create tailored flowcharts using the user flow tool according to those persona's requirements.
Its major drawback is that it only works with Slack. So, website designers can't use design software like Adobe XD, Webflow, and Sketch with FlowMapp otherwise their workflow may be disconnected.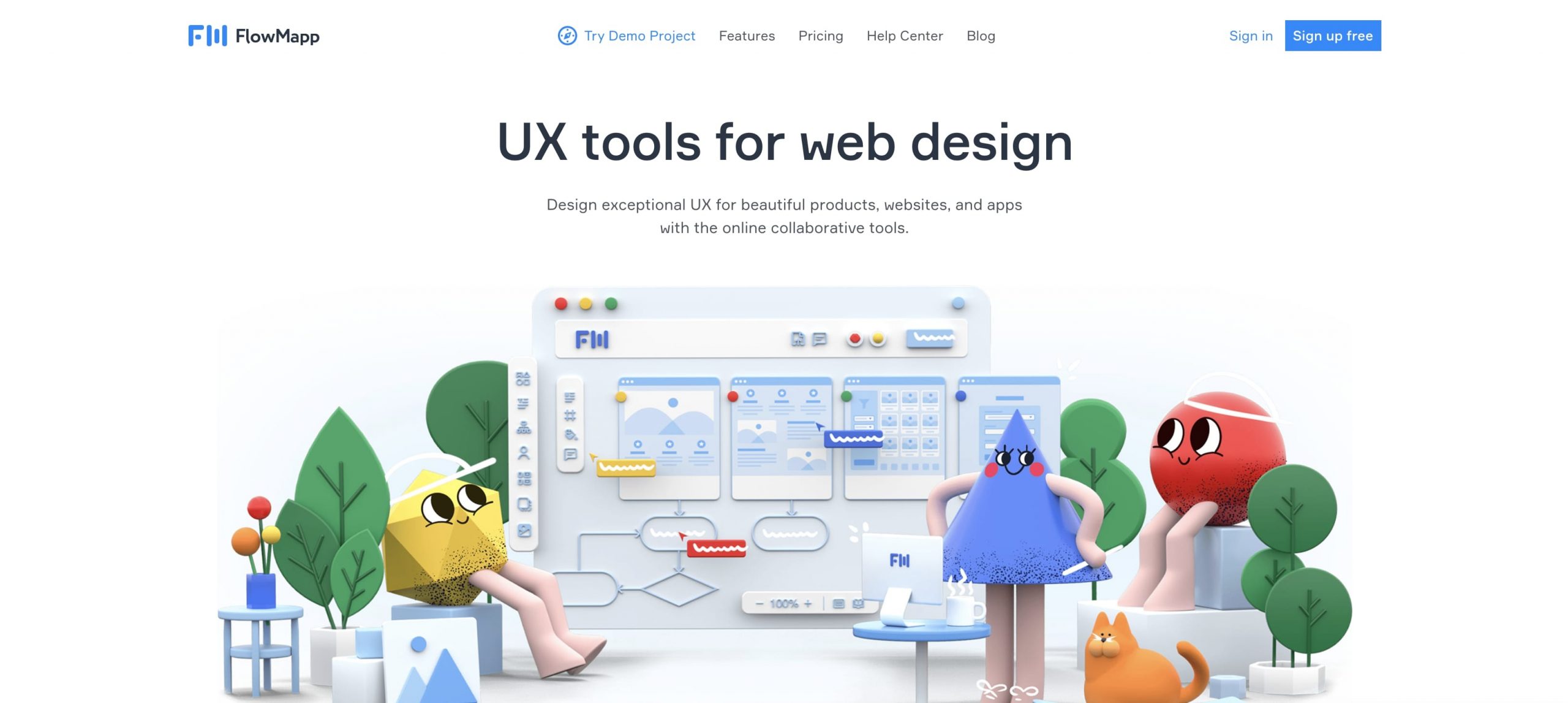 Webflow
Technical Information
Webflow is great for web design and the development of production-ready sites. It's available on the Web. it has a free version and a paid version that charges $ 35 per month.
Features
Headquartered in the USA, Webflow is a no-code website builder as well as web design software. It aims to help designers build fully functional and consistent web designs that can grab the attention of visitors.
So, the first problem for designers is that many of them don't know how to code. This is why Webflow has a user-friendly and intelligent interface. It runs perfectly well with CSS, JavaScript, and  HTML but still supports programmers.
Sometimes website development and design professionals want to code by themselves to make their design function in the way they desire. Professionals can add customized code wherever they want if Webflow doesn't support their preferred code.
It also helps you when you think you have used up your reservoirs of creative design ideas. Its library contains more than a hundred various well-performing templates.
Do you wish to design element interactions but have no knowledge of JavaScript? Well, Webflow has the solution. It allows you to design aspect interactions and animations and there is no need for any custom code.
It also works as a friend when you have to hand your work over to developers in the USA. As developers like everything in the code form, this software provides all JavaScript, HTML, and CSS files you need.
On top of that, it comes with a full-fledged content management system and web hosting services. It also provides website migration services. Their licensed professionals migrate sites from other website-builders such as Weebly, Wix, WordPress, and Squarespace.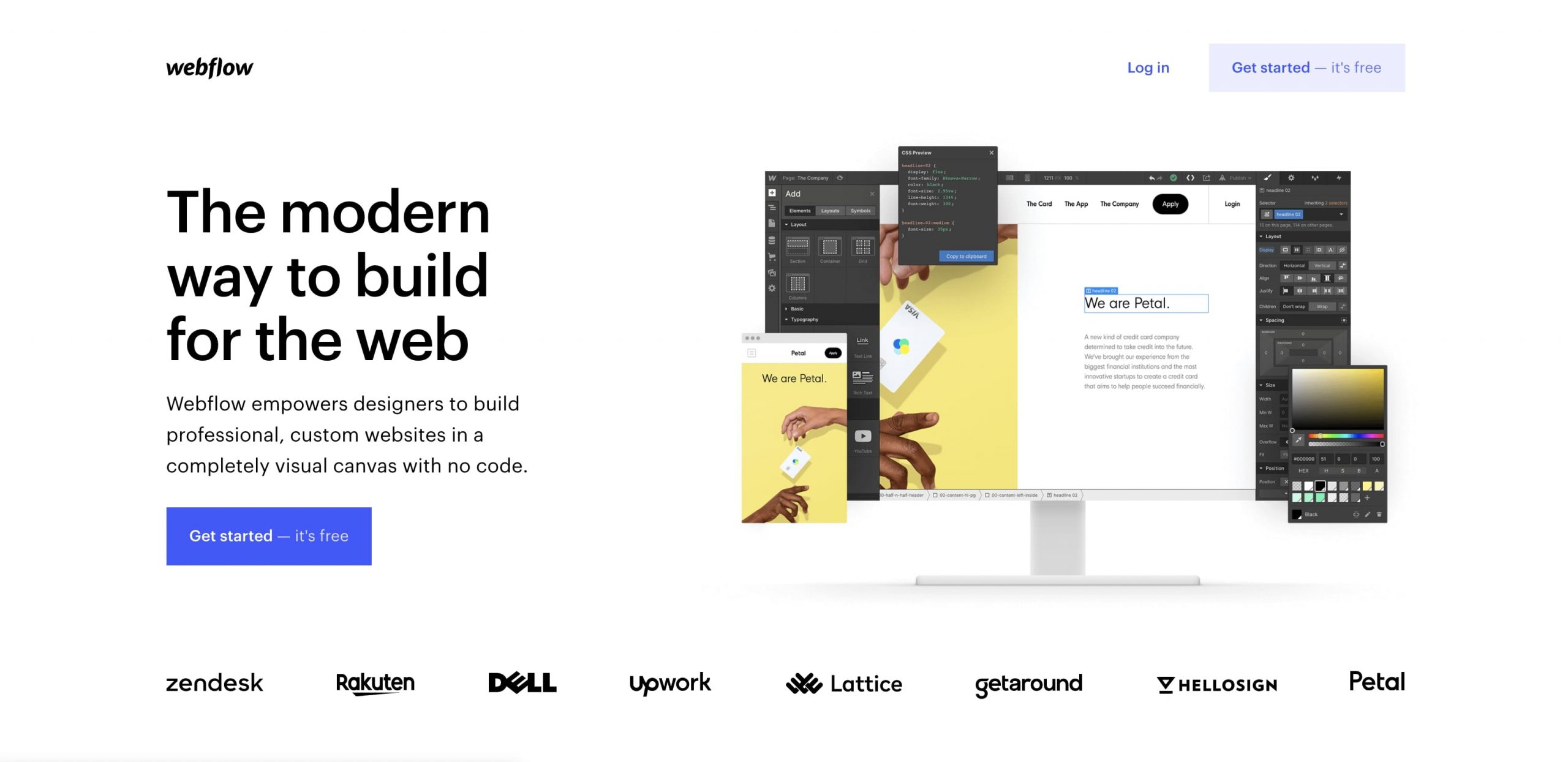 Bottom Line
Most of our observation is related to our vision. No surprise, web design accounts for 94 percent of first impressions. Using top-notch web design software will pay big dividends. It will increase your customer retention and stop your leads from bouncing back.
Digital Gravity Agency provides reliable website design services. We have a decade of experience with clients belonging to various industries from all over the world. A dedicated and talented team of web designers and developers is our strength and the reason for our success.
Digital Gravity Agency offers the most economical prices in the market with timely delivery. We never compromise on quality so you can rest assured that your project is in safe hands.