Home » Ecommerce Development »
Discover the 9 Best Search Engines for Ecommerce in 2023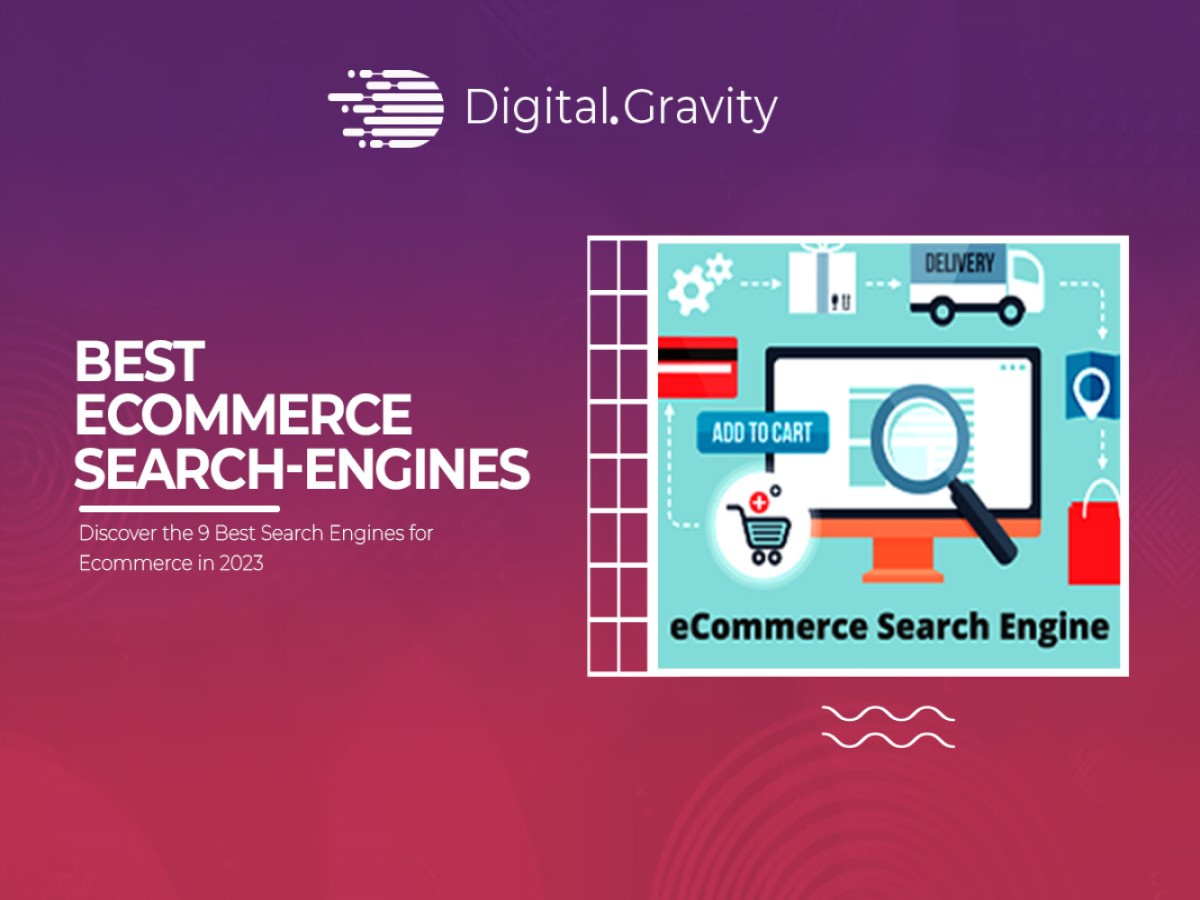 Business expansion and engagement is the dream of every entrepreneur. To achieve this dream a business owner must understand the power of search engines for eCommerce.
Today, when every business is moving towards digital marketing, it has caused immense competition in the marketplace. Many brands are fighting for market power to be the market leader.
Here, search engines play a very significant role in enhancing profits for ecommerce businesses. It is of utmost importance to choose the right e-commerce search engine because approximately 43% of customers rely on them. Here are the 9 Best ecommerce search engines.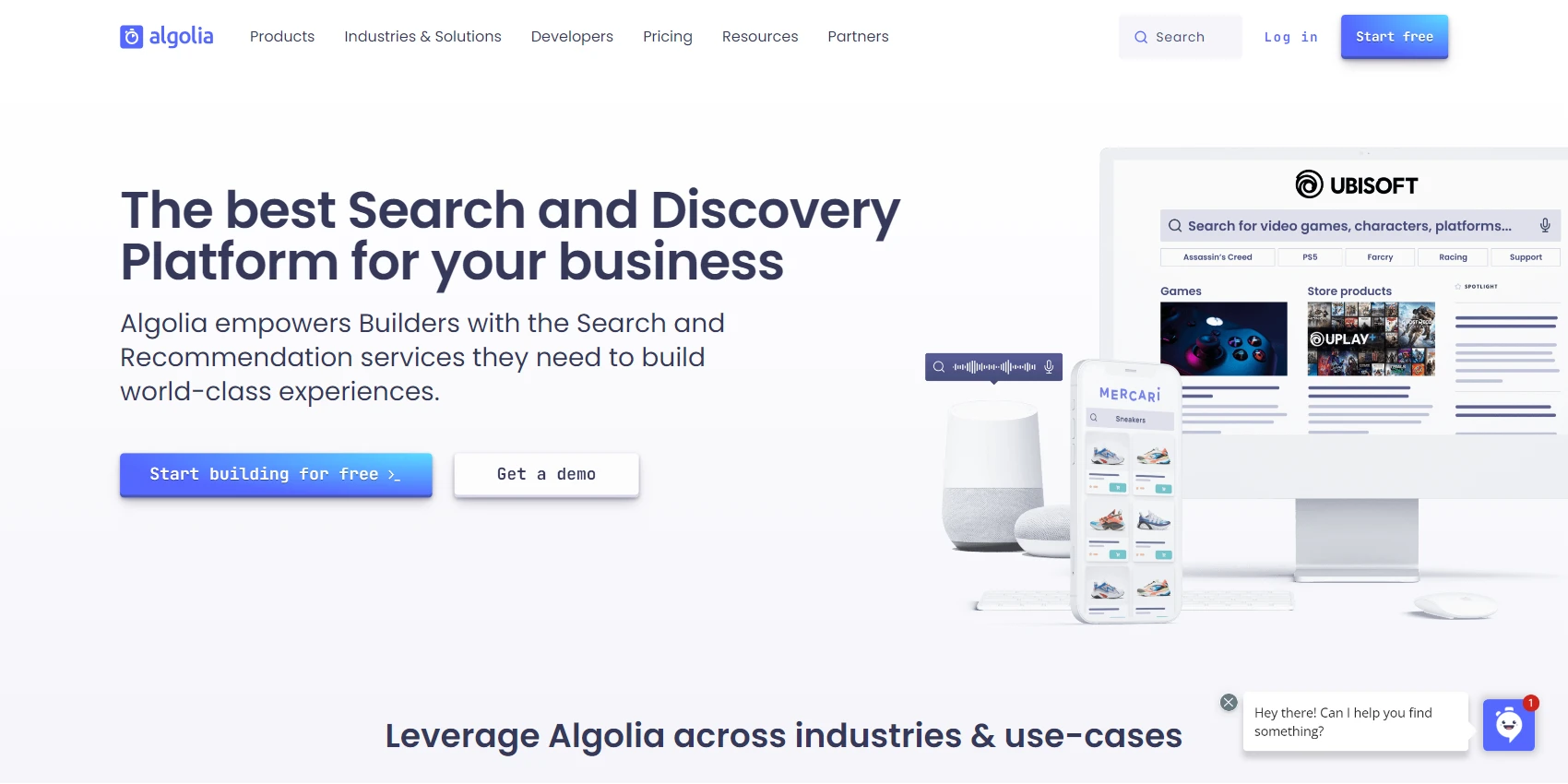 Algolia ecommerce search engine can help you to optimize your business search and reach and can give an amazing user experience. By using Algolia, you can optimize the most relevant content for the users.
This will increase engagement as users can find what they are looking for through search and recommendation platforms.
Algolia Ecommerce Search Engine Features:
Algolia displays search results based on geographical locations. It sorts out display results as per selected region and area.
It assesses users to select their preferred ranking, this simply means users can choose to display results as per their preference for example lowest or highest cost.
It further displays personalized search results, as it collects user data and analyzes their behavior through search history, providing users with a personalized search experience.
Pros
Can give fast search results
Provide additional API calls that will result in page speed optimization
Simple to integrate on either the client or server side.
Algolia has excellent documentation and features, including the ability to integrate with frameworks like Laravel and Flask.
It has great ranking and visual merchandising tools.
Feasible for small businesses
Cons
It might be difficult for users to navigate due to robust reporting
It needs developer support for complex integrations
It has a slow UI and does not update data displayed properly
Pricing
Alogolia has four pricing packages:
Free usage means $0 per month with 10,000 searches
Algolia Search (Standard), cost $1 per 1000 requests/month
Algolia Search (Premium), cost $1.5 per 10000 requests/month
Algolia (recommended), cost $0.60 per 1000 requests/month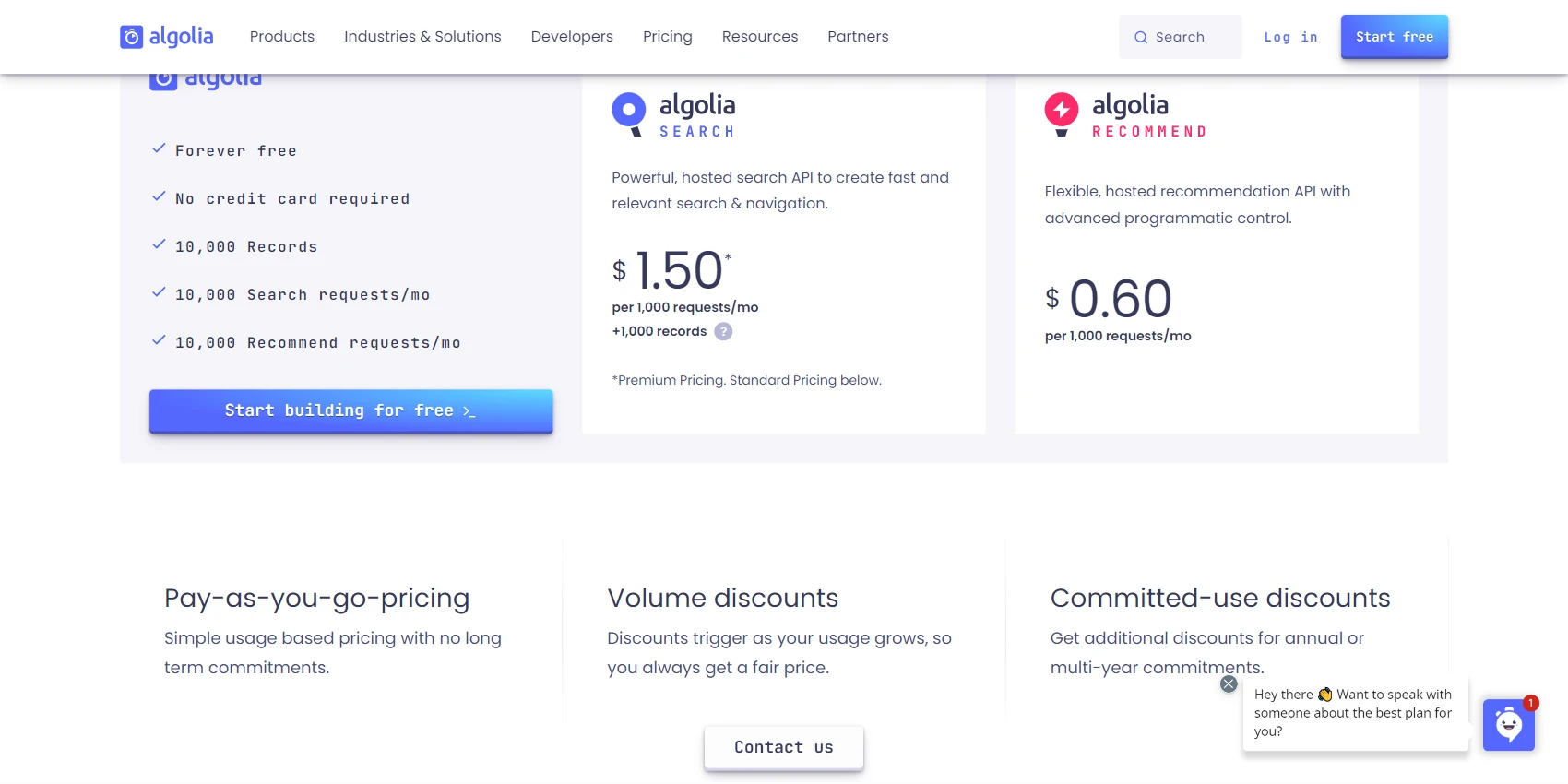 ---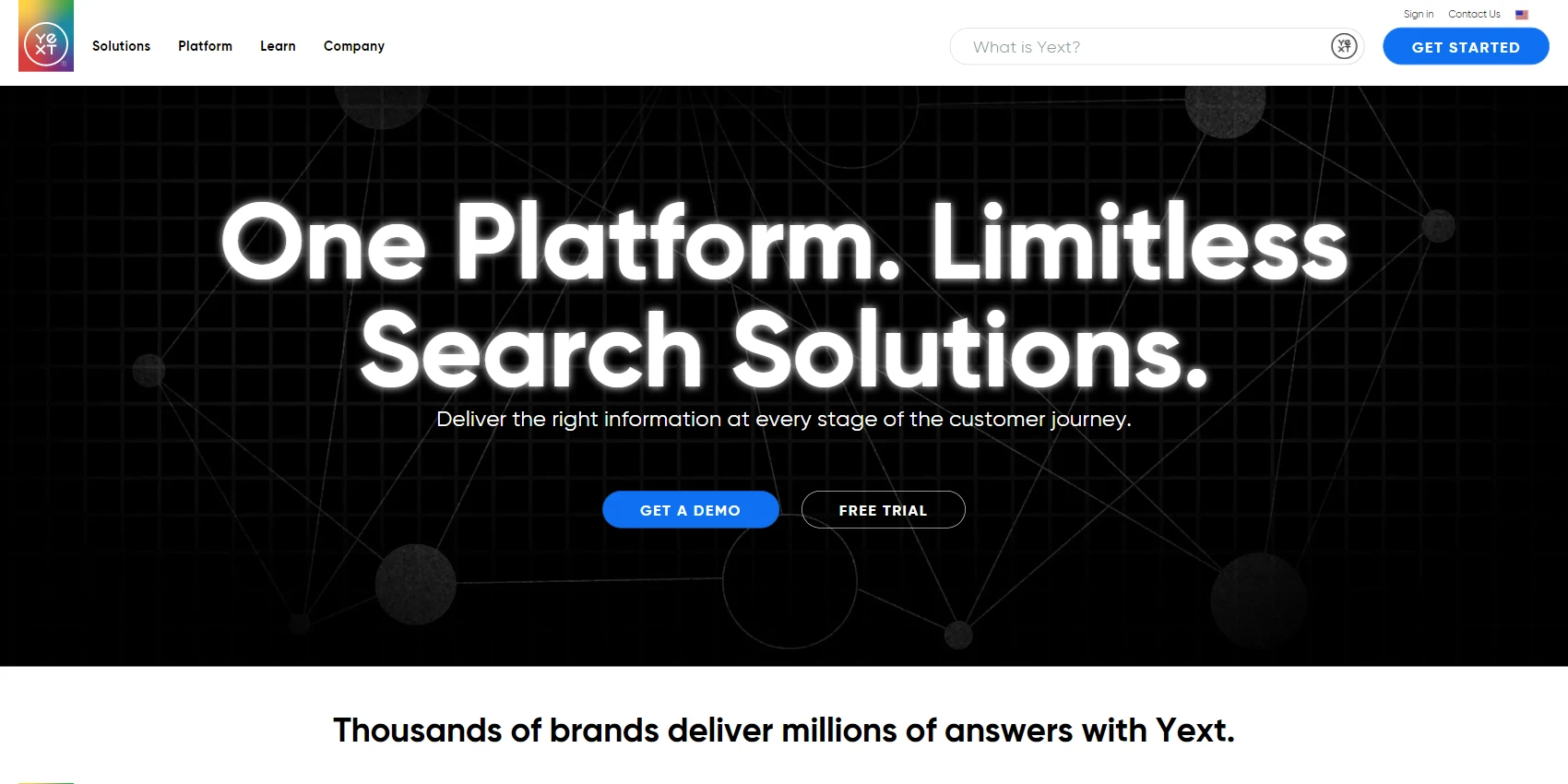 Yext is an incredible ecommerce search engine that gives a valuable experience to users by providing them with the best digital search results. It can help businesses to land among natural search results.
It has two most important elements that made it unique, one is natural language processing and the other is multiple algorithms.
Yext Search Engine Features:
Yext can help you to create a simple and engaging user interface.
It uses direct integrations that include google, Alexa, Facebook, and many others
It helps businesses to grow with its professional level of knowledge and expertise
Pros
Refinement options refer to customers who have found the information they are looking for and may wish to narrow their search results by price, color, size, or any other criteria.
Contextual search is when customers want results crucial to their current situation.
You can easily visualize the impact of your edits with the drag-and-drop, point-and-click interface
Cons
You need to be proactive in using Yext and must keep up with updates or you will not get the value for your money.
Pricing
Yext has four pricing plans:
The Emerging Starter Package starts from $4 per week, billed at $199 Annually.
Essential Plus Package starts from $20 per week, on discount, it is around $9, billed at $499 Annually.
Complete Standard Package starts from $22 per week, on discount, it is $10 billed at $499 Annually.
Premium Advantaged Package starts from $35 per week, its discounted price is $19 per week, billed at $999 Annually.

---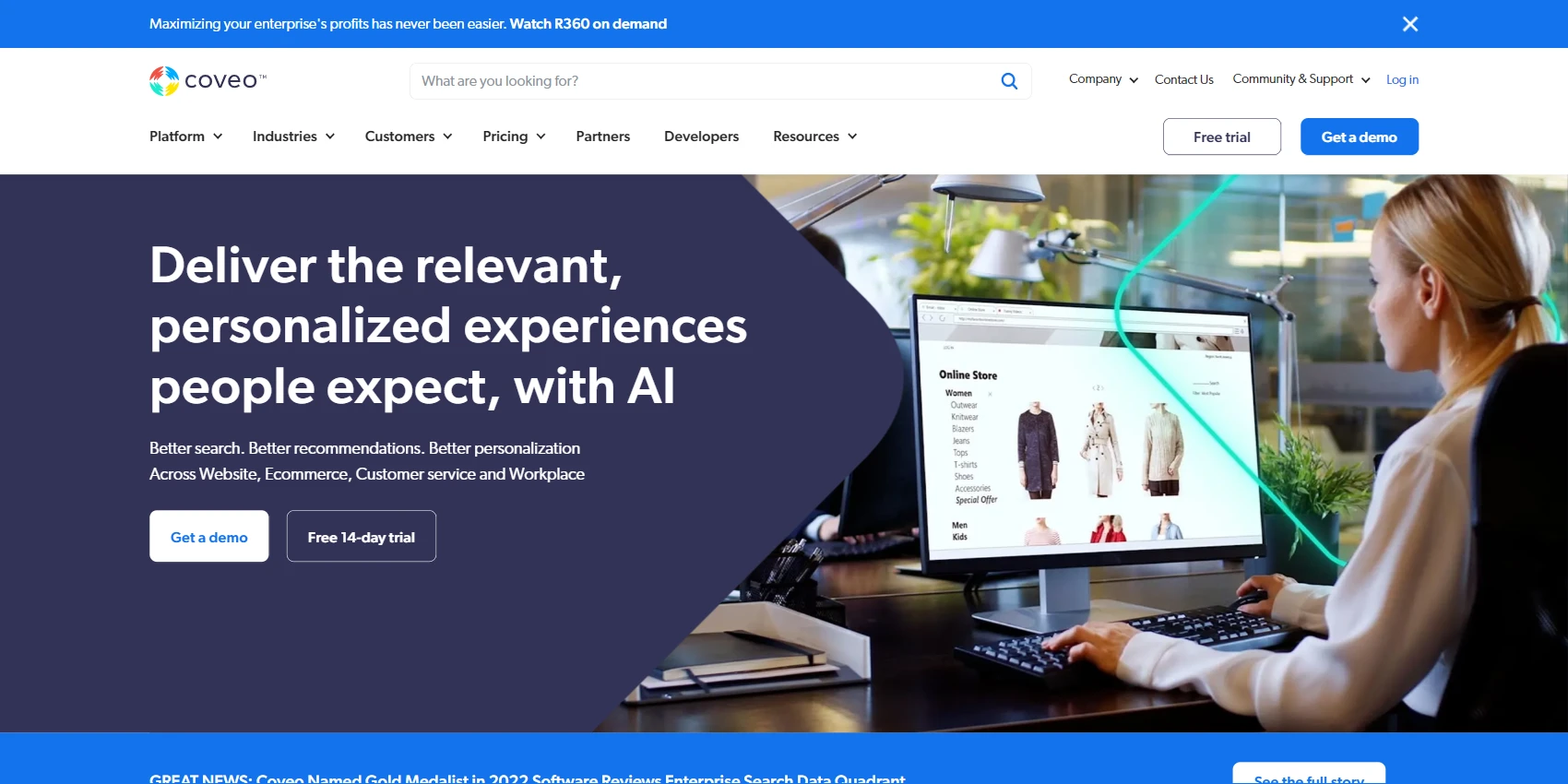 Coveo provides AI-powered solutions for enterprise eCommerce, which include personalization, product recommendations, and insights, along with social proof and product badging.
Coveo also offers AI solutions for service, website, and workplace applications which maximize business outcomes and profitability.
Coveo Ecommerce Search Engine Features:
Faceted search
Query suggestions
Personalized Recommendations
Integrated Content Recommendations
A/B testing
Product Badging
Pros
providing assistance in the growth of revenue.
 the reduction of customer support costs.
the increase in customer satisfaction.
website engagement.
Cons
Coveo is comparatively expensive compared to other platforms, therefore it is difficult for smaller companies to afford Coveo.
The deployment process is difficult.
It is not easy to use.
Access control requires technicalities.
Pricing
Coveo also offers a free trial along with two pricing plans:
Pro
Enterprise
Coveo pricing information can only be supplied by the software providers and sellers.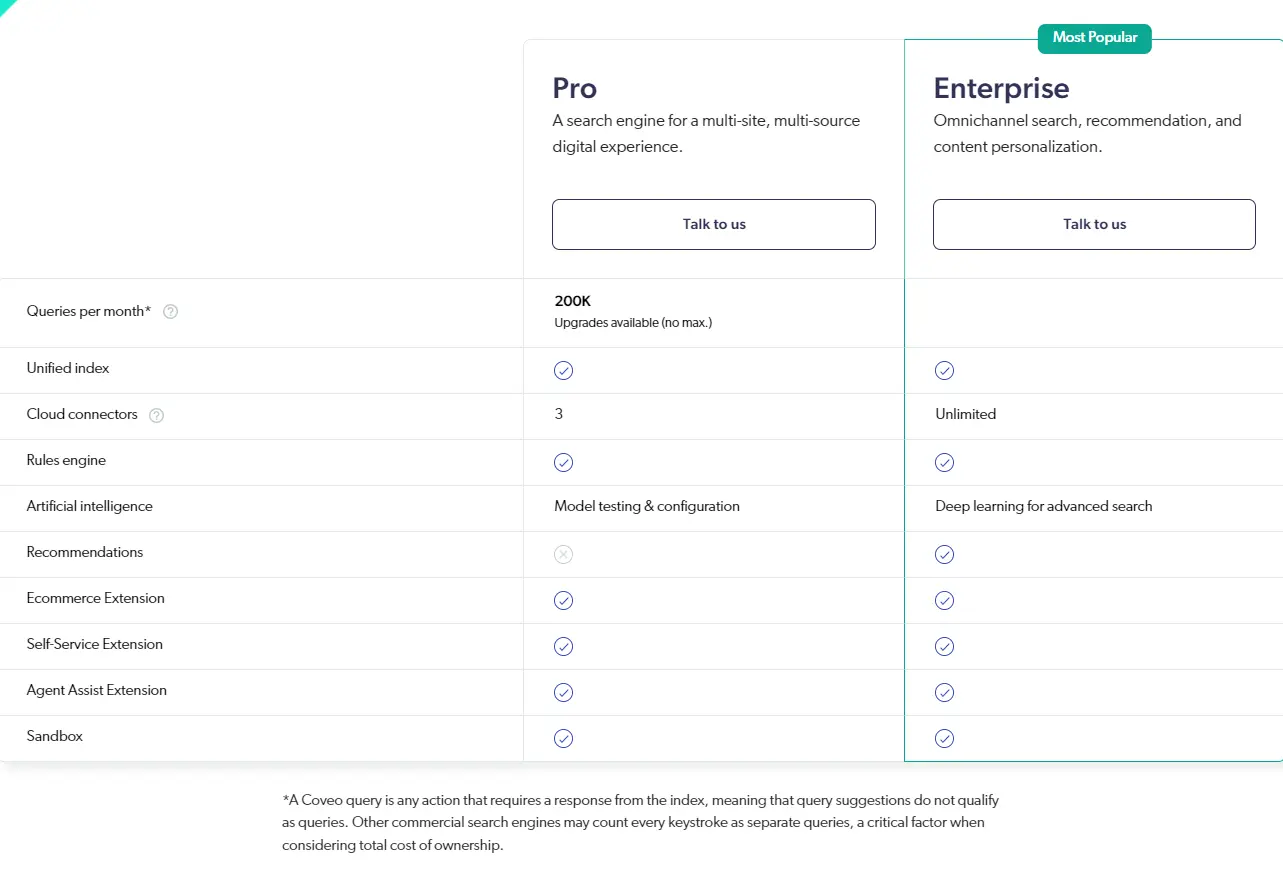 ---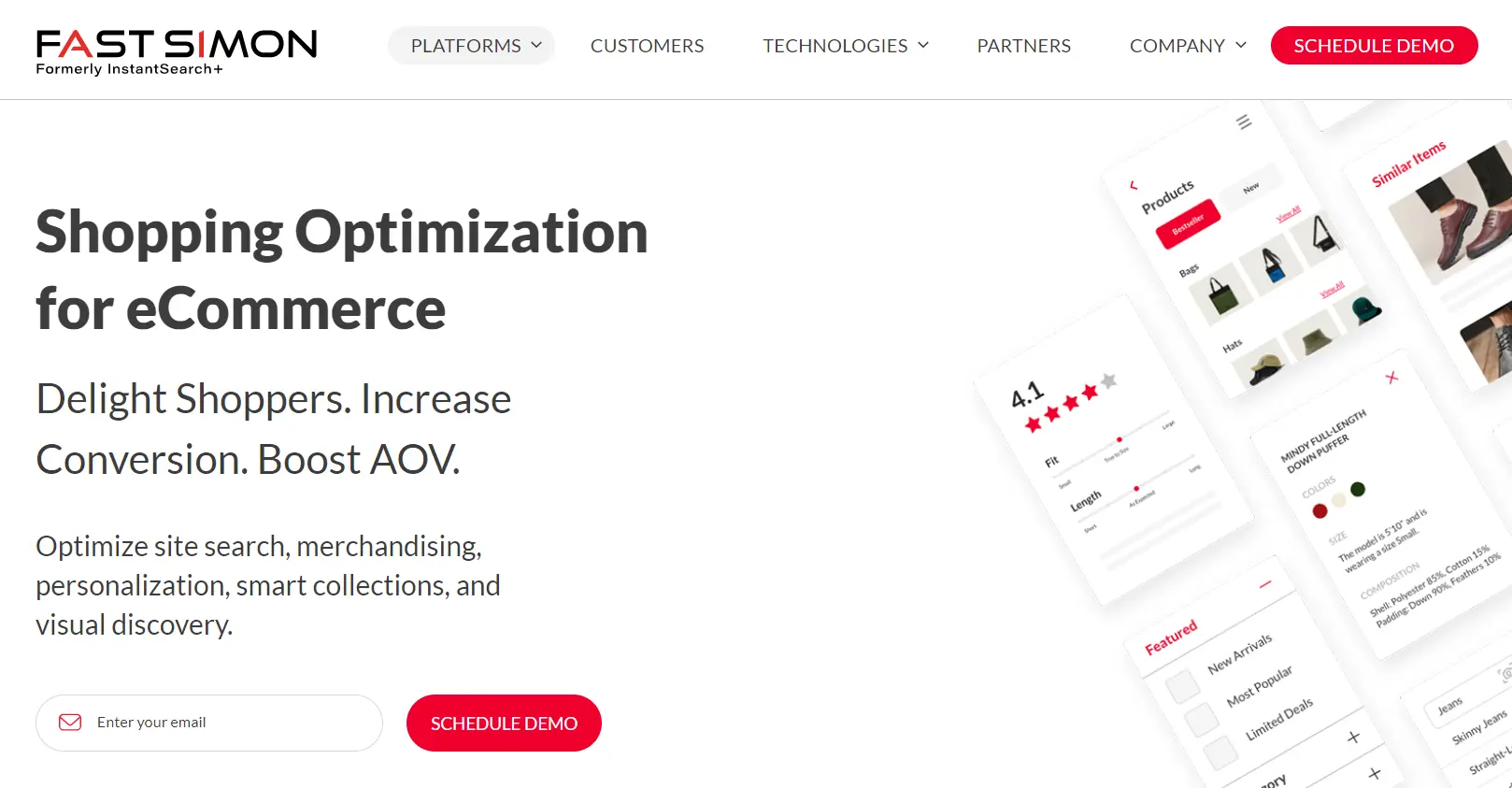 Fast Simon eCommerce search engine which was formerly known as Instant Search,  has a large network of support partners that can expand your visibility and brand reach to potential customers.
Features
Autocomplete functionality
Stopwords functionality
Redirects
Custom CSS and HTML
Spell check function
Pros
Fast Simon can help you with navigation and speed optimization so the collection page takes less time to load, giving your business a competitive edge over its rivals.
Smart search and filter help users to find what they are looking for, increasing customer satisfaction.
It can help you to reach excellent results while overcoming the challenges of default search.
Cons
Has low optimization results compared to other search engines.
Pricing plan
Fast Simon has four pricing plan
Starter comes with the most basic features at $39.99 per month
Essential has core features and benefits and costs around $99.99 per month.
Top Pro has advanced features and the cost is $299.99 per month.
The Growth has more powerful features and the cost is $499.99 per month
Enterprise offers customized support and the pricing is also custom

---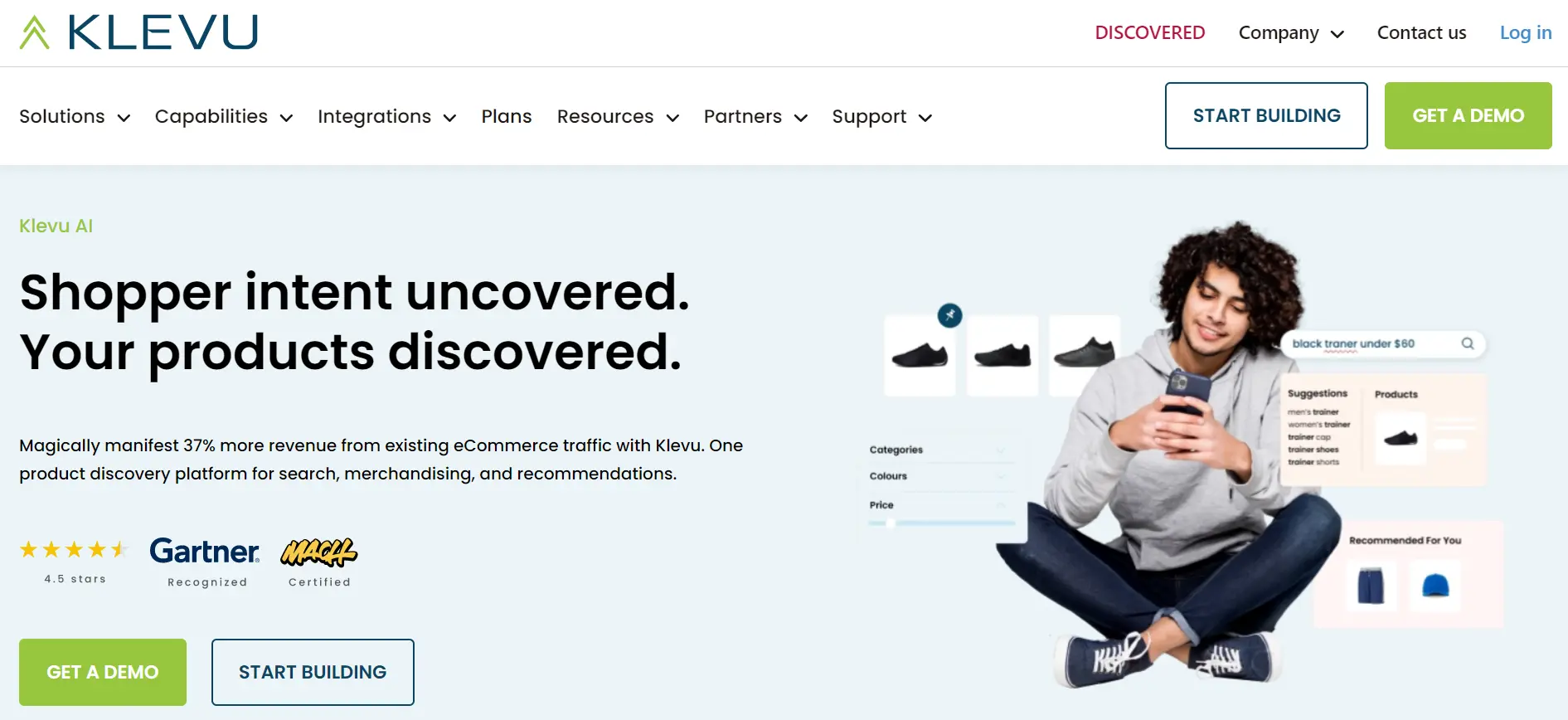 Klevu provides technical features that help to build a transparent and secure development lifecycle. That further contributes to business growth as Klevu AI helps to create a better ecommerce search and product discovery experience with its powerful features. This is how they build trust in their partnerships.
Additional Features
Robust Functionality
Personalized user experience
Machine learning
Faceted navigation
Analytics
Visual Merchandising
Pros
It can save cost and time by upgrading your e-commerce search.
Klevu has multilingual capabilities that can help with natural language processing. The languages include English, Swedish, Finnish, Spanish, French, and German.
Klevu has a technical architecture that provides data security, scalability, and reliability to everyday business operations.
It can increase your conversion rates, enhancing profits and revenues.
Cons
Pricing plan
Al-Powered Search- Premium cost is $499 per month
Al-Powered Search -Premium Plus cost is $799 per month
Al-Powered Search + Category Navigation Premium is $998 per month
Al-Powered Search+ Category Navigation Premium Plus cost  around $1598 per month

---

Omega Instant eCommerce search uses an algorithm that finds the exact words or phrases that a user searches giving a personalized experience according to their unique interests and experiences.
It has powerful features that bring flexibility to the search function.  By using Omega AI tools, you can improve your product discovery which will ultimately convert your leads into customers.
Additional Features
Immediate search enhancement
Fallback search
Search autocomplete
Automatic language detection
Theme integration
Custom product filters
Pros
Improve your browsing experience with minimal effort.
Provides key features that lead customers to the content they are searching for, this builds credibility as customers can easily find the relevant information about your product.
Cons
It has many problems like sometimes: search figures do not update in the dashboard or live results do not work on cell phones.
It is pricey if you want to use it for long-term analytical data
Pricing
It has four types of pricing plans:
Free
Starter cost around $12 per month
The standard is about  $19 per month
The professional cost is $39 per month

---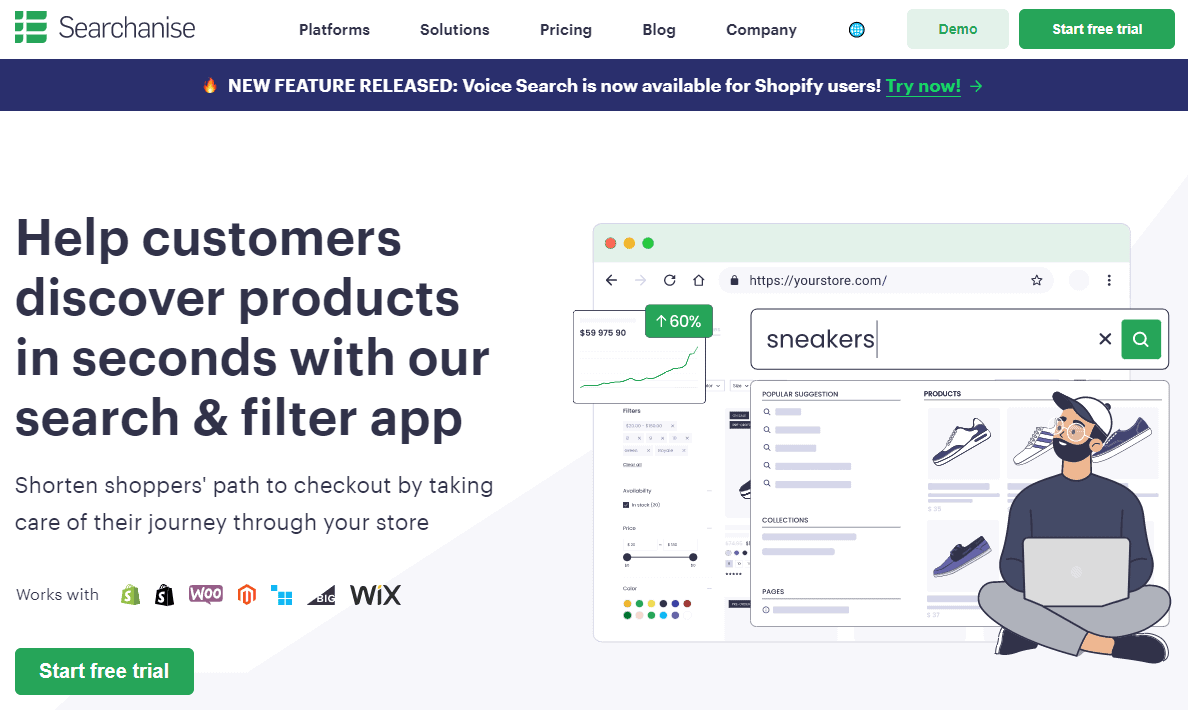 Many potential customers might not remember the name of your product or service and they search with somewhat similar spellings. Your eCommerce search engine must be able to pick those words and phrases to display the relevant results.
As no user will spend a lot of time and effort in finding you when many products can fulfill their needs. This means by not using the right search engine, you might lose your customer and a customer lost is lost forever.
Features
Full-text site search
Autocomplete
Stopwords
Powerful analytics
Product filters
Cross-selling and Upselling
Shopify Kit integration
Pros
Increase conversion rates.
Can significantly increase your profit and revenue.
Gives a personalized user experience.
Can handle many search queries in one minute.
Cons
It has a serious performance issue.
Pricing
Searchanise allows its users to do a 14-day trial. If they are satisfied, they can avail of any of the pricing plans below:
Basic, which is around $19 per month. Its discounted price is $16
 The essential plan cost is $39 per month. Its discounted price is $33
The advanced plan is around $59 per month, the discounted price is $49
The growth plan cost is $99 per month, whereas on the discount it is $83
Pro is $179 per month, on discount, it is around $149
Premium is $329 per month, the discounted price is $274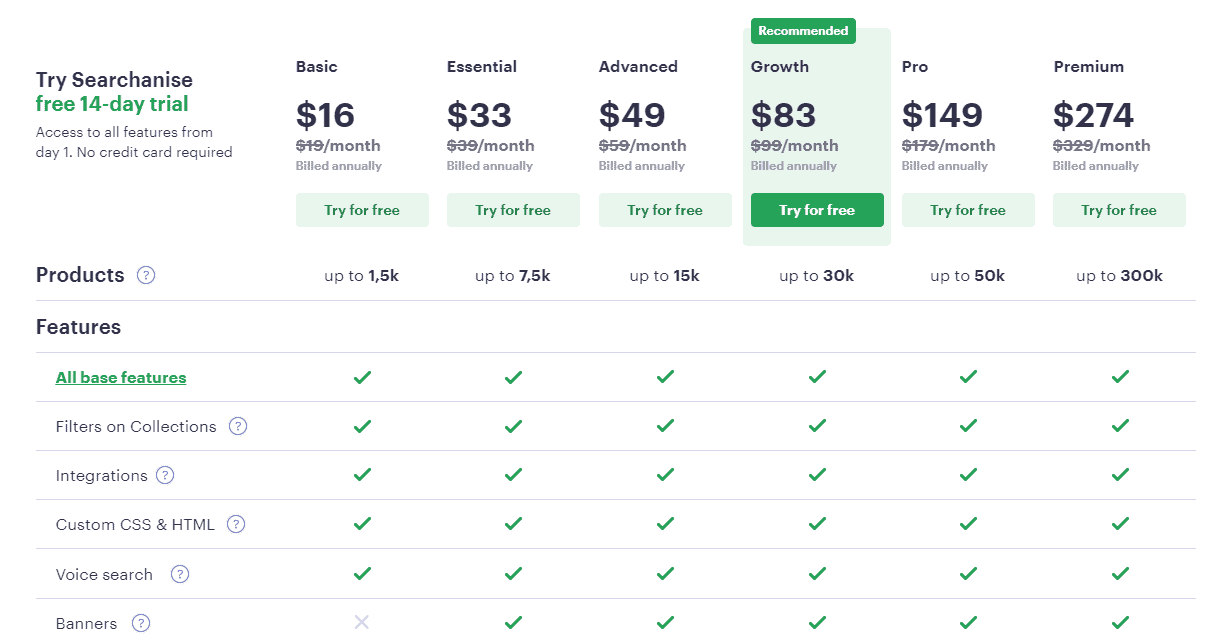 ---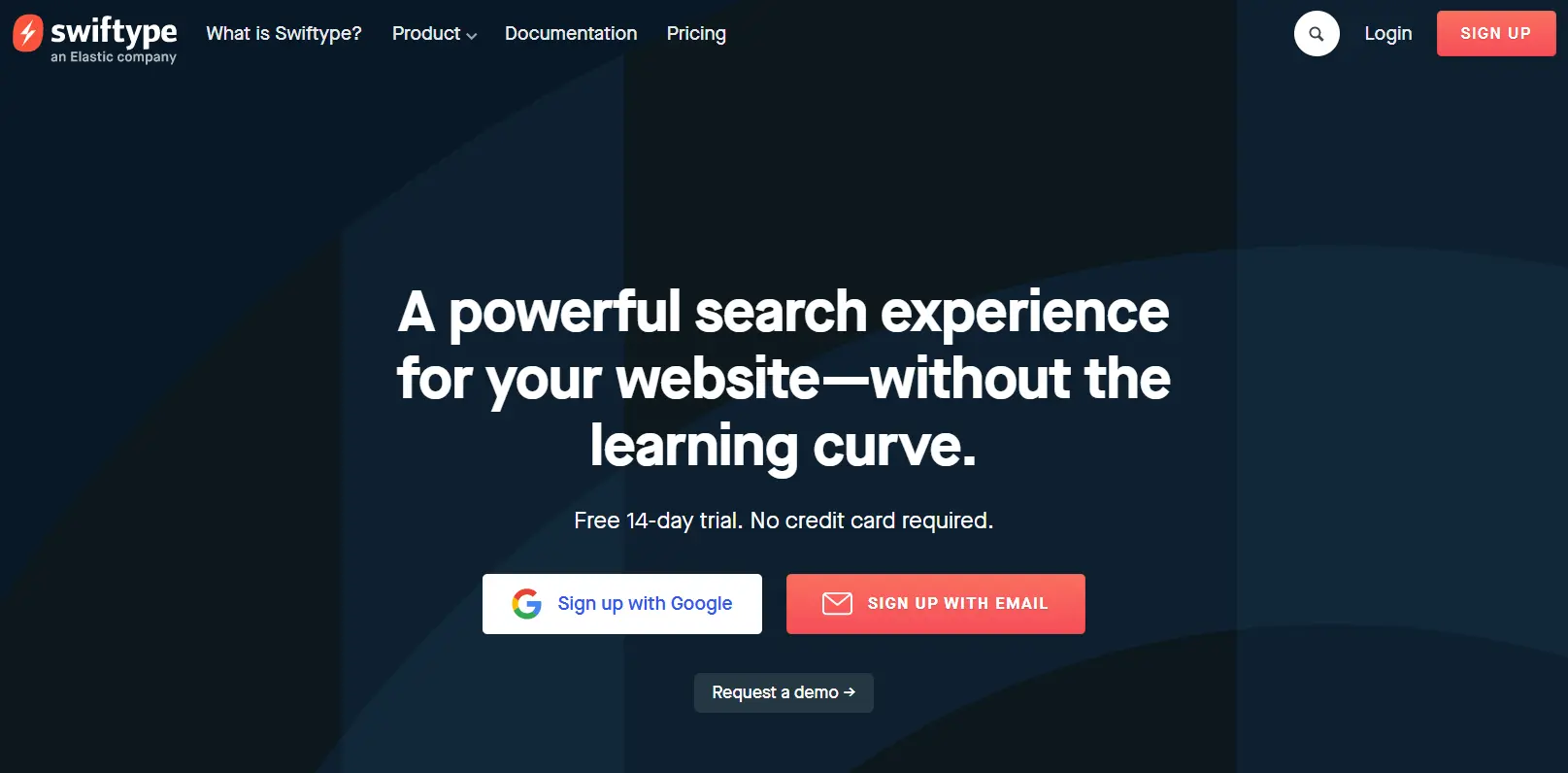 Swiftype can help you improve your eCommerce search through its technological features and algorithms that provide an outstanding cloud-based site search platform that is fully secured and completely meets customer expectations.
You can use the Swiftype search engine to upgrade your eCommerce site.
 Features
Flexible integration
Spellcheck
Bigram matching
Synonym support.
Intuitive search tools
Outstanding relevance.
Seamless indexing
Insightful analytics
Powerful customization features
Pros
Connect to your potential audience which can increase your sales and profits.
Increase engagement from potential customers
Customized API provides an excellent user experience and brings mobility to search results.
Spread more awareness regarding your products and services
Faceted search can user experience push customers for the checkout process
Cons
Takes a lot of time for indexing
It is too expensive for smaller companies
The dashboard takes time to update
Pricing
The standard plan is $79 per month
The pro plan is $199 per month
The premium has custom pricing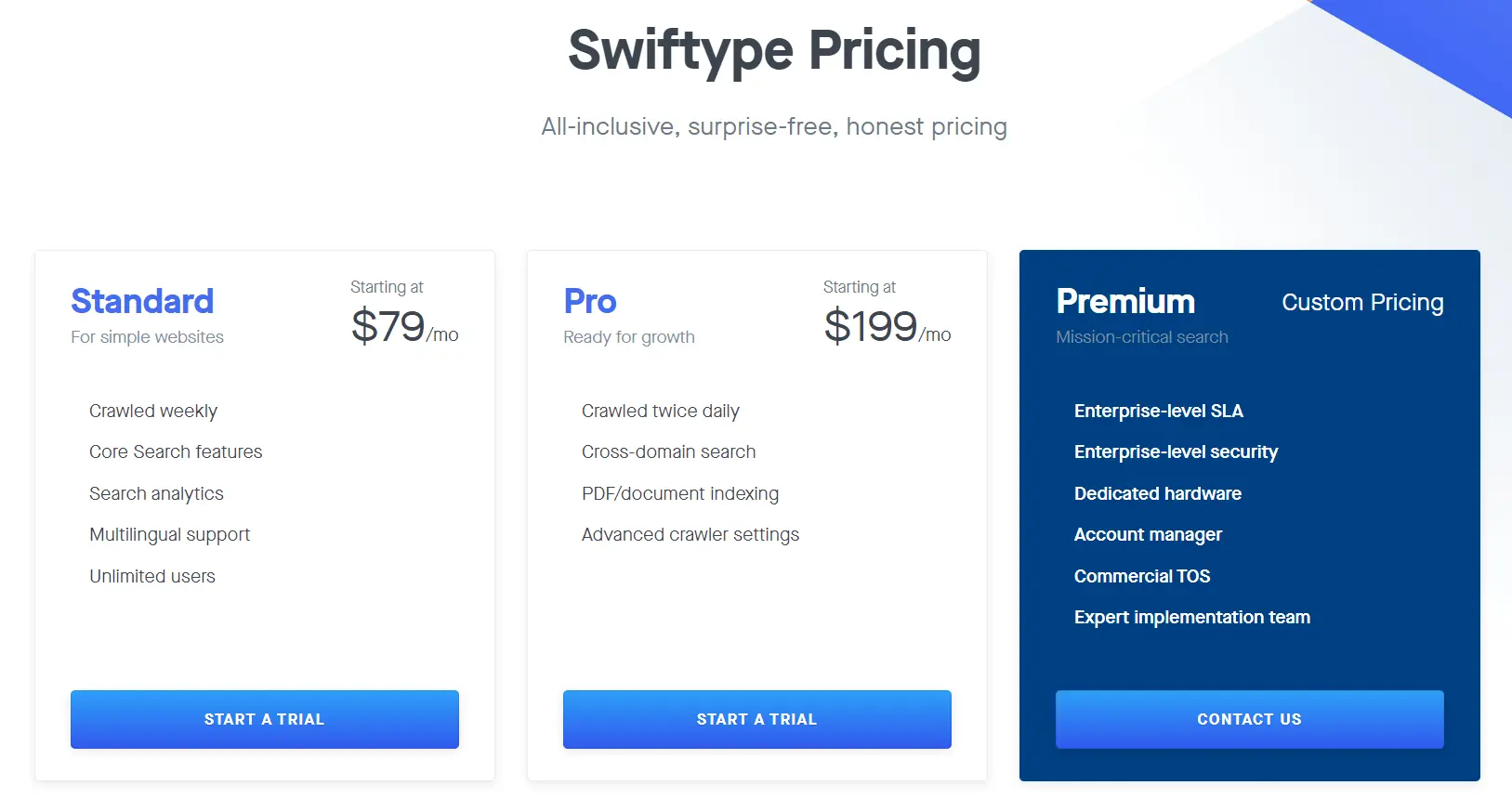 ---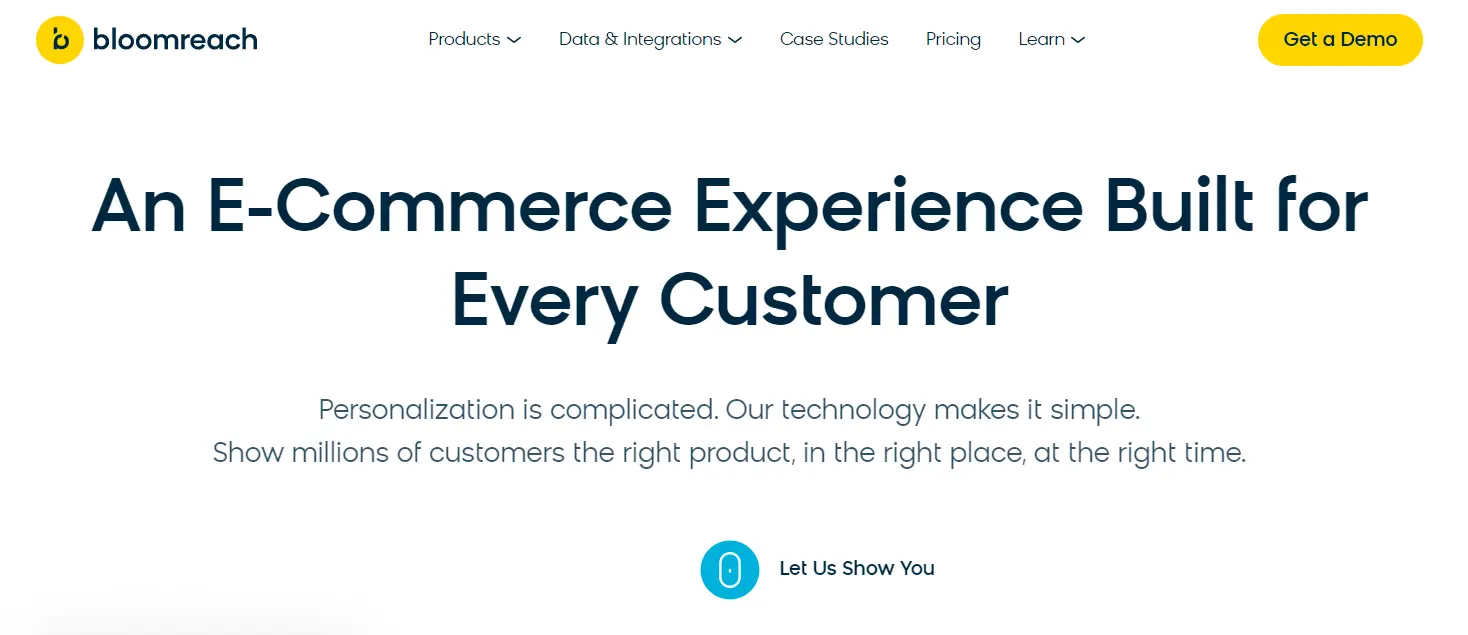 Bloomreach has professional experts that can drive your product discovery, and improve your ROI. That will automatically increase your conversion rate and profit margins.
Features
AI drive search and merchandising to get an immediate edge over competitors.
A search engine that uses behavioral data to lead relevant results
Smart Query Relaxation
Natural Language Understanding
Context-specific Ranking
 Seamless Integrations
Pros
Bloomreach's smarter search tools understand customer intention and display accurate information that customers want.
Such features increase visibility, engagement, and awareness about your product and service.
Due to their vast experience in B2B and B2C, they can provide effective and relevant solutions to overcome digital challenges.
Cons
You need a consultation to use Bloomreach
Cannot be used by customers who have no experience
Reporting and analytics require high-tech knowledge
Pricing
Pricing information is available with software providers and sellers. There are some pricing plans to meet customers' needs and budgets. Each package is available in Grow, Scale, and Enterprise.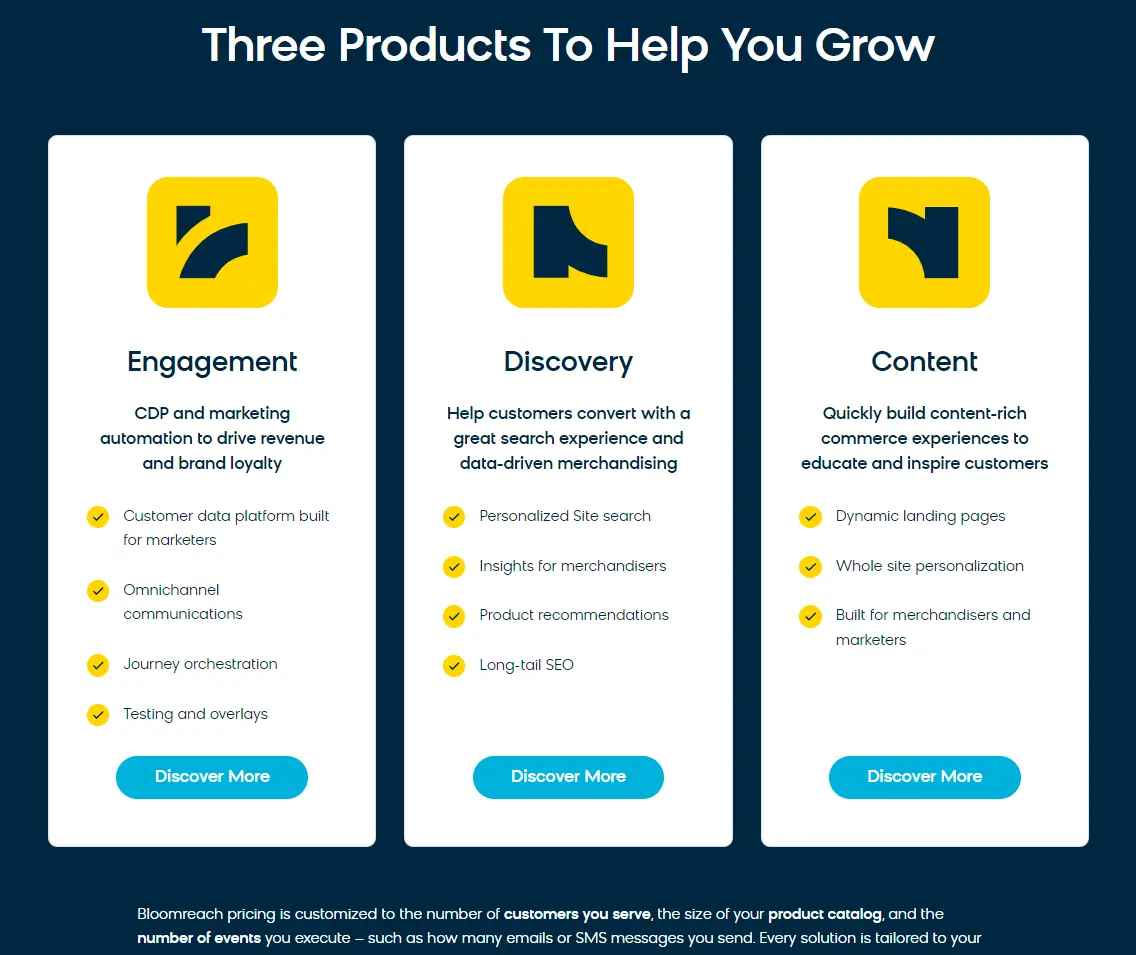 ---
Conclusion
Many apps can help with the search engine for eCommerce. Due to the high competition in today's market, every business needs to create a sustainable competitive advantage.
This search engine provides custom eCommerce solutions that can broaden your reach to potential customers. It can also help to remarket your products and services. You can communicate and deliver value to your potential customers by using a search engine that best serves its purpose.
FAQs
What are search engines in e-commerce?
A search engine is a software program that can help customers to find a product or service by using relevant keywords. It is time efficient as a search engine can scan the internet and can display the relevant results.
How can I improve my eCommerce search engine?
You must implement SEO eCommerce best practices to improve engagement and business visibility.
Do keyword research
Optimize product pages
Your website must be user-friendly
Follow a simple URL structure
What makes a good eCommerce search?
To optimize eCommerce site search, you need to follow these practices:
Autocomplete search query
Natural Language Processing
Comprehensive search analytics
What is the best search engine for eCommerce?
The 5 best search engines for eCommerce are:
Searchanise
Algolia
Yext
Coveo
Bloomreach