Home » Mobile App Development »
14 Best Offline Music Apps With Cache To Try In 2023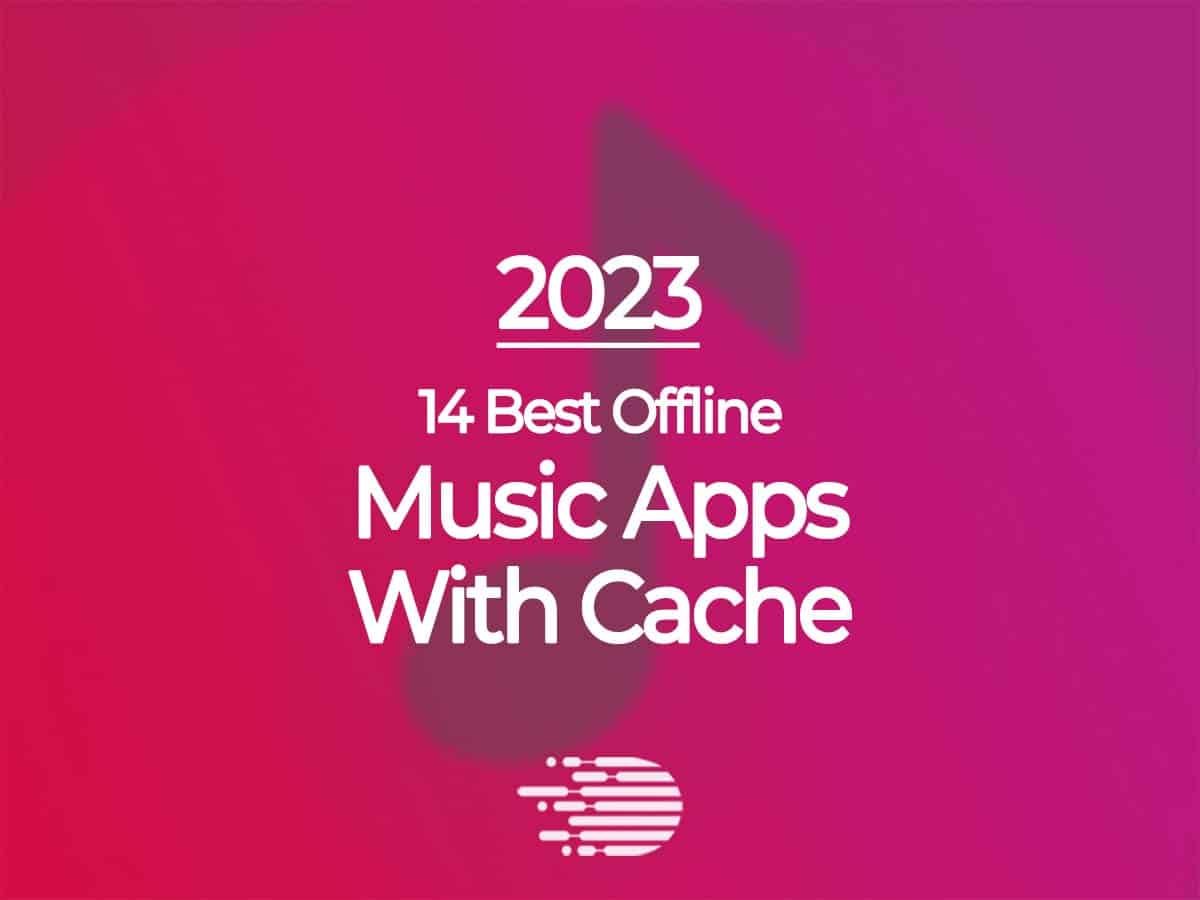 The modern busy life has occupied people with their roles and responsibilities. They have no time to enjoy their life so they go for music to calm themselves. Here offline music enables users to listen to music without wifi or cellular data thanks to music apps with cache.
Although there are numerous music apps that provide offline music in their premium package. But, more than 50% of users are not willing to pay. Therefore, we have made a list for you showcasing the best offline music apps with cache.
Our Picks: Best Offline Music Apps With Cache in 2023
The following are some of the 14 best apps that let you listen to music offline in 2023:
Nowadays, it's very common among phone users to get a Spotify Premium subscription. Spotify Premium subscribers can utilize Spotify offline mode to download songs and podcasts to their devices for offline listening in addition to removing ads and having unlimited skips.
Spotify is well-known for its excellent algorithm, which contributes to making a personalized playlist for each user based on their listening habits. Spotify Premium users can download up to 10,000 songs on their devices, which is far more than most people do on their phones. There's also the annual Spotify Wrapped event, which distills an individual's listening experience into entertaining and informative data.
This mainstream music app with cache lets you listen to some music without wifi while maintaining its high music quality. It has a diverse collection of songs, podcasts, and other audio content hence making it one of the best offline music apps that let you listen to music offline.
Amazon is one of the leading music streaming service providers that let you download songs and playlists for offline listening. This music app with a cache has an extensive song library and works with other Amazon devices and services.
Mainly, users who purchase their music from Amazon can listen to it through the Amazon Music app. Amazon Music Unlimited's catalog includes tracks in High HD resolution, making it ideal for certified audiophiles in addition to being a seamless music player with an intuitive interface. Amazon Music includes a feature that displays lyrics on the screen as the song plays. Amazon Music guaranteed its users an excellent offline listening experience, whether they are listening to their old favorite songs or the newest Taylor Swift album.
Amazon Music, also an offline music app offers users access to thousands of tracks featured on Amazon Music. The feature allows users to listen to music without wifi.
This is the best app for listening to music offline. It provides a streaming music service that allows you to save songs to listen to them later. It has an extended song library with exclusive content from independent artists.
SoundCloud is the users' top pick because it is a free offline music app with cache. It also has a basic version that supports ad-free and offline music. SoundCloud is a music app with a global community of creators that is very similar to Spotify in terms of User Interface and User Experience. On the platform, you can listen to millions of original hits, covers, remix tracks, mashups, and audiobooks.
Unlike other music apps, this app does not require Wi-Fi. Even, users are not required to prepare a library by downloading their favorite songs. Developers of SoundCloud came up with an exciting feature that automatically processes users' history and then plays those songs that users previously enjoyed.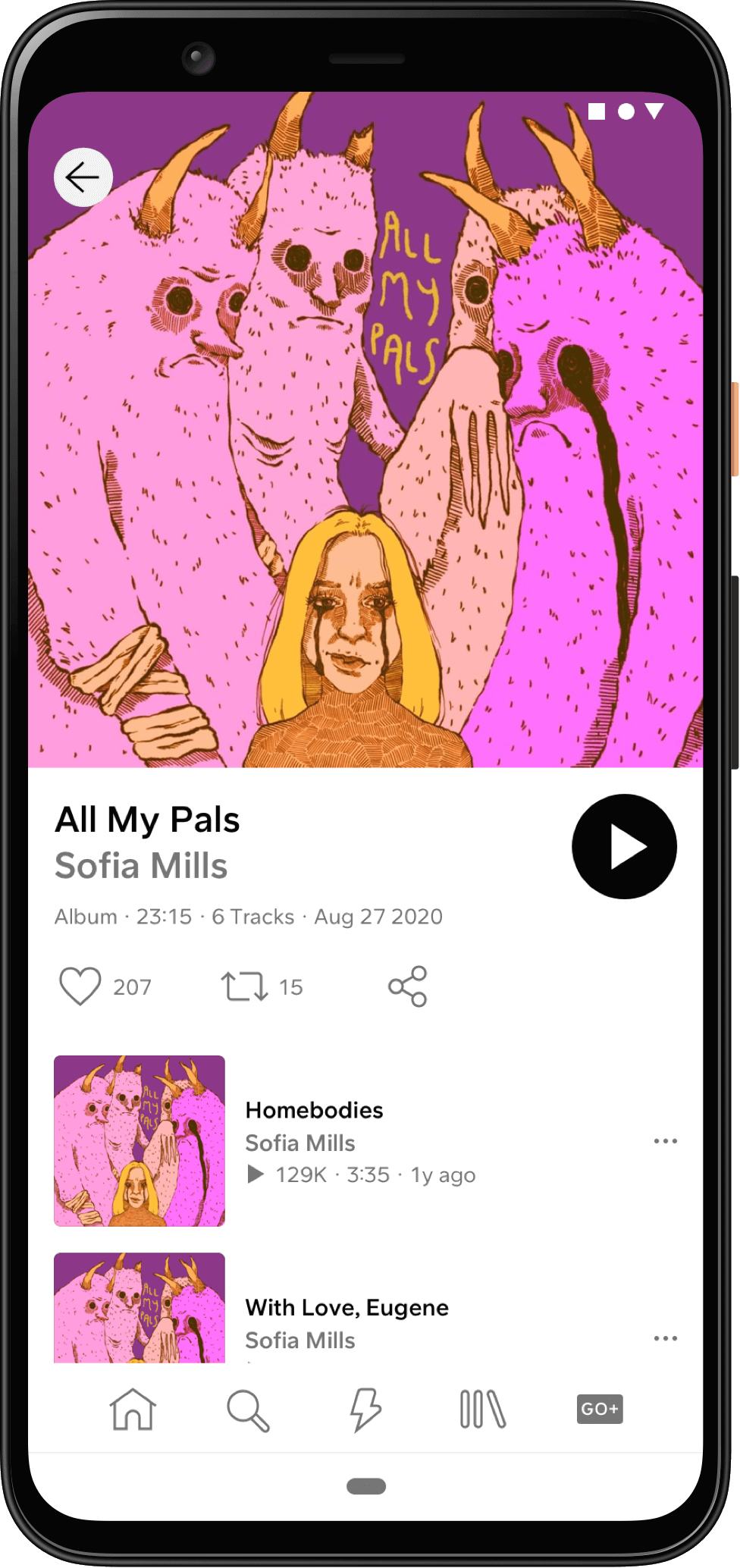 Deezer is a music streaming service that lets you save songs and playlists for offline listening. It has a large song library and works with other Deezer devices and services.
Deezer is a music and podcast app that has over 70 million tracks available. It has a user interface and experiences similar to SoundCloud, as well as machine learning algorithms for personalized listening.
Pulsar comes in the offline music apps category for both iPhone and Android. Pulsar, provide its users with a beautiful interface and engaging animation, allowing users to easily import their music and have it sorted into various Smart Playlists.
It's also integrated with social media platforms and supports Google Chromecast. This allows users to easily share songs they enjoy with their friends, whether online or offline. Pulsar automatically syncs missing album and artist images, which is great for those who are used to downloading and purchasing songs online rather than streaming.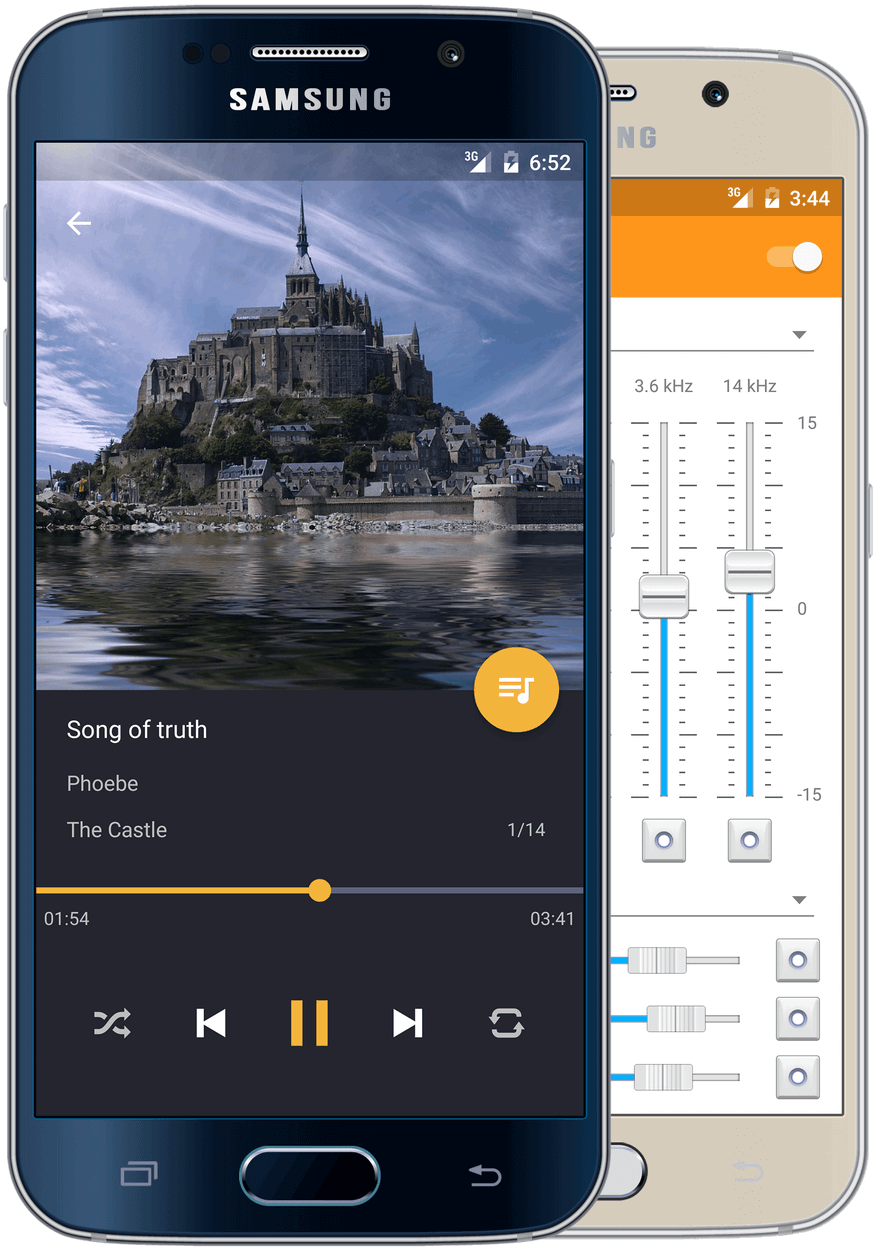 When Apple launched its iconic Apple device in the 2000s, every individual was obsessed with it. From the iPod Nano to the iPod touch, the music player's grayscale interface and click-wheel feature remained consistent over the years. Those who yearn for the past can now download the RetroPod offline music app to their phones and listen to their music without internet connectivity.
RetroPod essentially transforms a phone into a classic iPod, complete with the click wheel and haptic scrolling. Users should not expect a lot of bells and whistles from the app, as its simple and nostalgic interface is its main selling point.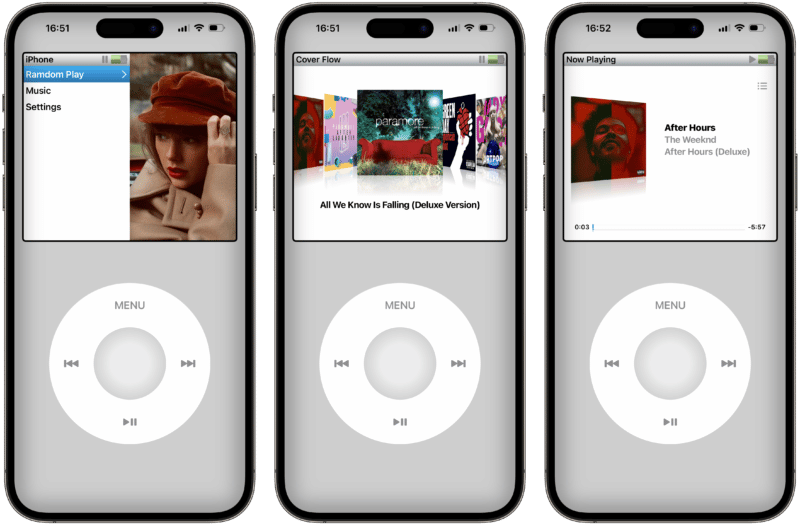 Developers of Trebel understand the needs and wants of the consumers. They came up with a brilliant idea that every consumer must have access to premium music. According to Trebel, every consumer must be allowed to listen to music offline for free. Therefore, it allows its users to listen to music without having a proper internet connection. As a result, the app earns money through sponsored advertisements from well-known brands and media outlets
In technical terms, the app has a solid infrastructure that employs advanced technologies to provide personalized recommendations and only shows the most relevant advertisements. According to various online sources, it has 3.5 million monthly active users and earned $4 million in revenue by December 2020.
You may also like: USA Smartphone Usage Statistics 2022-2023
Pandora is the most famous podcast app and is considered one of the best offline apps for listening to music without internet. It allows its users to listen to premium music for free even in offline mode.
But the problem that pandora faces was that it is restricted in some regions due to geographical reasons. This is mostly because of local music licenses due to which Pandora cannot access customers outside the USA.
Pandora's USP revolves around creating the best user experience for its customers. By doing so they have earned a competitive edge over its competitors. Therefore, they invest heavily in their research and development to humanize the automated music so they can have a deep analysis to achieve their goal.
Pandora offers three main subscription plans: Pandora Plus, Pandora Premium, and Pandora Premium Family. The paid versions, which allow ad-free offline playback, start at $4.99 per month and vary in download capacity.
VLC media player is mainly associated with open-source video players for phones by many consumers, but it's also a great app for listening to music. It can play a variety of music files with ease because it comes pre-loaded with a plethora of codecs.
Apart from providing an incredible user interface, it is also easier to manage music on VLC Media Player in comparison to other offline music apps. As the app will automatically sort the tracks that users import into it, whether by genre or by artist. Furthermore,  users can easily import music from their computer to the app as the VLC media player offers a feature that allows users to share files over a wifi network.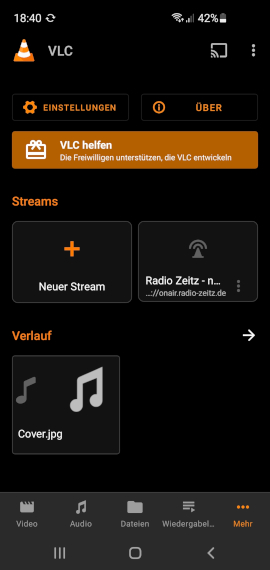 AIMP is an amazing free offline music app that allows its users to listen to their choice of music for free. Apart from providing its customers with a user experience that earns their trust. Developers of AIMP work on developing a simple flat interface design that enables users to listen to music without any interruption. AIMP also supports all audio file formats, including MP4 and FLAC.
AIMP's equalizer is also considered one of the best, with 29 bands that allow users to customize how they hear music completely. The app also includes the capability to mix cross files to single- or audio input. Without a doubt, AIMP is an effective app for people who wish to enjoy music without having internet access.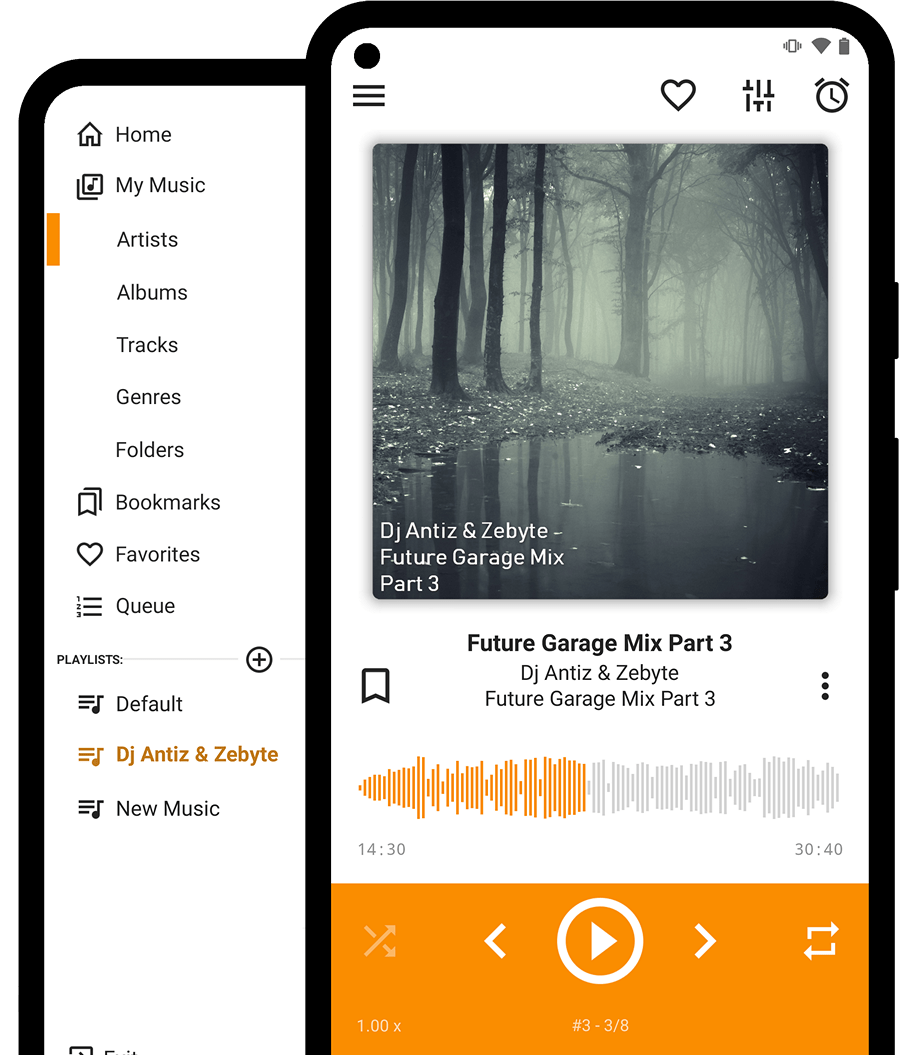 Rocket player is quite basic in that it cannot play high-definition audio, its playlist tools are not as comprehensive as some, and it lacks the range of equalizer controls that others on the list provided, but it is still worth considering.
Although it lacks some of the more advanced features found elsewhere, it is one of the best offline music apps to listen to music without having an internet connection for free if you want an easy-to-use, dependable way to access your files.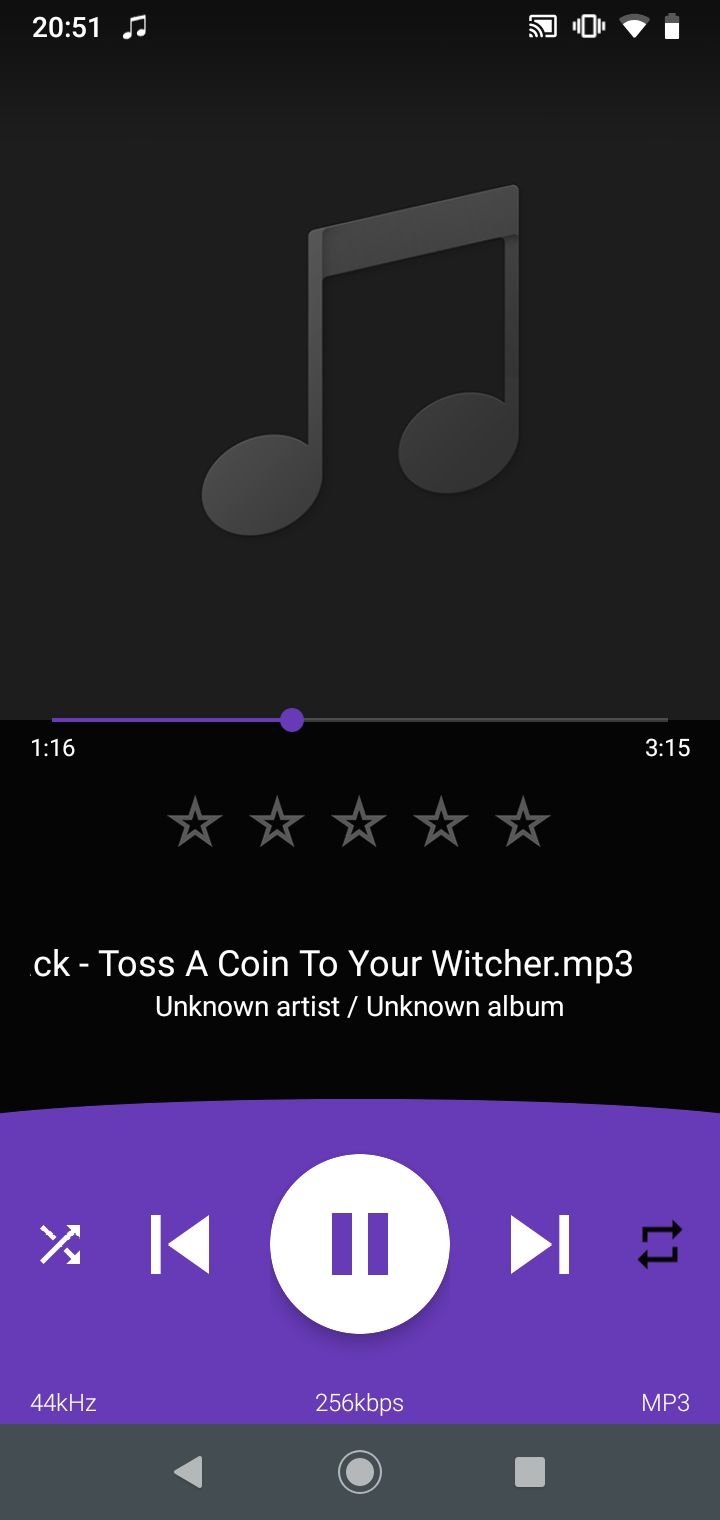 Musify is a full-fledged music streaming platform similar to Spotify; however, unlike the more well-known company, Musify allows you to download your playlists even if you are a free user. The offline music app is available for both iOS and Android devices, and its catalog of over 50 million songs provides plenty of options for any musical taste.
Similar to other streaming services, you can pay to get the best sound quality, with the free alternative of having a slow download speed. However, you cannot spot the difference between the two versions unless and until you listen to both versions.
Musify is simple to use which makes it convenient for users with little knowledge of technology. and you can download single songs or entire playlists with a single click, ready for offline listening.
Jet Audio, one of the best and free offline music apps available for both Android and iOS devices, is ideal for anyone who has a large library of music to listen to or who enjoys getting the sound just right every time. There is a paid option, but the free version has all of the features but will display advertisements during playback.
Bandcamp is a music app where viewers can actively support their favorite bands by buying soundtracks, album covers, mp3s, concert tickets, and even goods like stationery and tees.
Bandcamp is available for free to access and download, but its business model usually involves users paying for their favorite songs. Premium forms of music, webcasts, and video clips are available immediately without an internet connection and do not have to be downloaded or streamed.
These are some of the best offline music apps you should try in 2023. Remember that the features and availability of these apps may differ depending on your location.
Conclusion:
The entertainment industry is one of the early adopters of emerging technology. There are several music streaming apps available in the App Store. They provide a huge range of soundtracks, personalized recommendations, and voice recognization.
You can use any of these music apps with a cache and can enjoy music in offline mode. You can also create a list of your favorite songs and can listen to them with or without the internet.
FAQs
Q1. What is the best offline music app with cache?
SoundCloud is the best offline music app, with thousands and thousands of authentic playlists, mashups, documentaries, audio digital books, and other types of music. It has a free basic version and a $5.99/month premium version with unlimited offline streaming.
Q2. What are the best apps to download music?
Spotify
Musify
Jet Audio HD Music Player
Amazon Music
AIMP
Pulsar
Q3. What is the cheapest offline music app?
SoundCloud
Spotify
Trebel
Pandora
Q4. Is Youtube music offline?
Youtube is another free streaming music service that lets you download music tracks for offline listening. It has a large song library and works with other Google services and devices. You need to connect to the internet every 30 days or your downloads will no longer be available.
Q5. What are some offline music apps with cache for iPhone?
Vox is a music streaming service that lets you download songs and playlists for offline listening. It also has a diverse song library and works best on all ios devices. It can also integrate with all your music apps like Spotify, and iTunes library so you can enjoy all your favorite music in one place
Apple Music is another offline music-free app.  It provides an excellent streaming service that enables you to download songs and playlists for offline listening. It has an exclusive song library with valuable content and integrates with other Apple devices and services.
Q6. What music apps work offline?
For iOS:
Musify
Pulsar
Jet Audio HD Music Player
Vox
Rocket Player
Offline Music Player
For Android:
Musify
Pulsar
AIMP
Jet Audio HD Music Player
Poweramp
Rocket Player